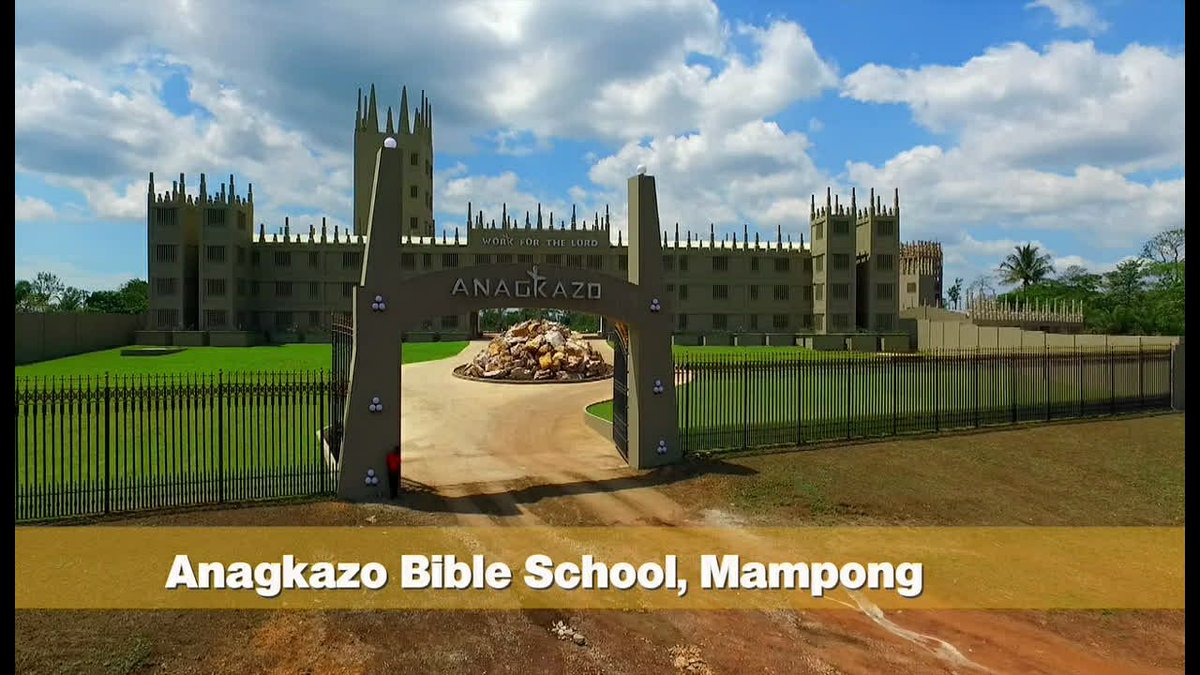 ABMTC LAUNCHES ETIQUETTE WEEK.
The Anagkazo Bible And Ministry Training Centre launched its first edition of Etiquette Week on the 28th of June, 2022.
The Anagkazo campus is a place dedicated to the training of men and women for the perfecting of the saints for the work of ministry, and for the edifying of the body of Christ.
The facility is solely dedicated to the propagation of the gospel through the preaching of the word of God, the planting of churches, the conducting of open-air crusades, the conducting of Christian conferences and camps, the publishing of Christian literature and the teaching of the work of the ministry of Jesus Christ.
It was founded by Bishop Dag Heward Mills, the founder of the United Denominations Originating from the Lighthouse Group of Churches (UD-OLGC) and the United Organisation of First Love Churches(UO-FLC190).
The Anagkazo Bible and Ministry Training Centre (ABMTC) are so privileged and blessed to have a founder and Chancellor like Bishop Dag Heward-Mills, who is always thinking of the welfare of the students.
He is always looking for ways to help them to come out as well rounded and respectable ministers of our Lord, Jesus Christ.
For a few years now, ABMTC students have been trained through Etiquette Dinners. 
The purpose of this training is to
Teach them good table manners.
How to interact and enjoy meals at a social event.
How to enjoy different kinds of cuisines and meals etc.
The Etiquette Training is on another level now!
Each class will now experience a number of Etiquette Weeks.
In an etiquette week, there will be four (4) types of etiquette training experiences:
1. The English Breakfast.
2. The Royal Tea.
3. The Ambassadors Lunch.
4. The Dignity Dinner.
The class of 2024A were privileged to be among the first class to partake of this new setting.
Dress code.
The Dress Code for the first three(3) days was Smart Casual i.e. Properly ironed long sleeved Shirt tucked in with neatly polished shoes for the gentlemen, and a decent dress for the ladies.
The Dress Code for the Dignity Dinner on Friday is a Very Formal Dinner attire.
On Tuesday, the 23rd of June, 2022, the students had an awesome English Breakfast Meeting. They were served;
A teacup of hot chocolate (there were coffee and teabags too).
A slice of brown bread and sugar bread.
A table spoon of baked beans in tomato sauce.
They were later served with pineapple juice, some slices of watermelon and a bottle of Special Ice Mineral Natural water.
On Wednesday, the 24th June, 2022, the students had a wonderful Royal Tea. 

There were different flavours of Tea available;
Refreshing Hibiscus Mocktail.
Homemade Pastries And Tea Cakes.
Signature Scones With Jam, Marmalade And Cream.
Savoury.
Egg Salad Mayonnaise Sandwiches.
Tuna Spring Onion Mayonnaise Sandwiches.
For the Ambassador's Lunch on 25th June, 2022, students were exposed to a foreign dish. They had starters, main dish and desserts.
Their menu are as follows;
STARTER.
Profiterole (Delicate choux pastry with a tuna and vegetable filling).
SALAD.
Mediterranean salad (A healthy mix of steamed broccoli cauliflower and carrots on a bed of lettuce, assorted peppers, baby cucumbers, chery tomatoes and olives, with a feta cheese topping and a tangy Vinaigrette dressing).
MAIN.
Baked Mashed Potatoes with Shredded Beef in a rich Red Wine Sauce.
Coconut Rice with Pan Stuffed Chicken ( a unique stuffing of bread crumbs, mint, parsley and rosemary) in a mildly spiced Green Pepper sauce.
DESSERT.
Seasonal Fruits.
The Dignity Dinner was rescheduled to make way for the Accra Boogie King Dancing Competition 2022 held at the First Love Church, East Legon, Accra on 1st July, 2022.
The rescheduled Dignity Dinner comes off this Friday, the 15th of July, 2022.
ANAGKAZO is a wonderful place to be.
Coming to Anagkazo would definitely help you to nurture and fulfill God's calling upon your life.
For further information, kindly access their website at
You can also call or WhatsApp +233 504685762
You can miss other things but not training in Anagkazo Bible And Ministry Training Centre.
You must check out ABMTC ADMISSION.
Want to know how to write an excellent research proposal or thesis, check this out UG Research Proposal Format.
Check out University Of Ghana Amnesty, UG Law School and Does UG offer International Relations?
Kindly note that this information will constantly be updated so keep visiting this page to read more.
I hope this article answered your question.
Do not hesitate to use the comment section if you have any questions or concerns.
Kindly stay tuned and share this article with your friends.
Thanks for reading.