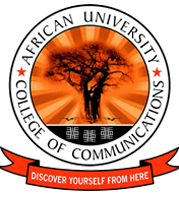 The African University College of Communication is the first University College in Africa to offer Journalism and Communication Studies as its flagship programmes.
Formerly known as the Africa Institute of Journalism and Communication (AIJC), the African University College of Communication (AUCC) is a private tertiary establishment founded by Honourable Kojo Yankah in 2002.
AUCC Accreditation.
The African University College of Communication (AUCC) was first accredited as a tertiary institution by the National Accreditation Board (NAB) in 2004.
AUCC was granted approbation to offer Bachelor of Arts degree programmes in 2007 and in 2010, AUCC was again granted imprimatur to offer Bachelor of Science degree courses in Business Administration.
African University College Of Communications Mission, Vision And Core Values.
MISSION:
The mission of AUCC as a higher educational institution is to prepare lifelong learners to become innovative problem-solvers and ethical leaders through excellence in interdisciplinary teaching, research, and collaboration using a Pan- African framework.
VISION:
AUCC's vision is to become a centre of excellence in communication, business and related areas by providing opportunities for student learning, research, professional and economic development for the progress of the continent of Africa and the global community.
CORE VALUES:
AUCC Core Values are:
Critical and independent thinking.
Creativity and innovation.
Embrace African cultural values.
Service to the community.
Programmes Offered In African University College Of Communications.
B.A. Communications.
B.Sc. Business Administration.
AUCC Entry Requirements.
West Africa Senior School Certificate Examination (WASSCE).
Applicants with WASSCE must obtain a minimum of six credit passes (C6) in six subjects (3 core and 3 elective subjects respectively).
Senior Secondary School Certificate Examination (SSSCE).
A minimum aggregate score of 24. Applicants must obtain at least a D (4) in six subjects.
General Certificate Examination 'O' and 'A' Levels.
Applicants with 'O' or 'A' Levels must have Grade 6 or better in five (5) 'O' level subjects including English, Mathematics and a Science / Arts subject. In addition, they must have passes in 3 subjects, one of the passes should be Grade D or better at the A Levels.
International students with qualifications equivalent to those mentioned above (1-2) may be considered for admission. They must also show evidence of proficiency
in English. This includes applicants holding Baccalaureate (IB), IGCSE, GCSE and other external qualifications which have equivalences to the SSSCE, WASSCE and GCE.
Must have a Ghanaian nationality, 25 years or above and must pass a mature candidate's qualifying examination and interview.
Holders of University of Ghana Diploma or its equivalent, with a Final Grade Point Average (FGPA) of 3.25 or better, eligible to apply to the same area of study.
Holders of Diplomas in other areas of study must have distinction.
Applicants must have graduated with a good HND certificate (i.e. at least 2nd Class Lower Division). In addition, the applicants must have acquired a 2 year post – HND Qualification working experience. 
African University College Of Communications Contact Details.
Address: Discovery House, No.2 Jones Nelson Link,Off Kojo Thompson Road,
Adabraka, Accra, Ghana.
Email: info@aucc.edu.gh.
Website: www.aucc.edu.gh.
Telephone: +233 302 258 586 / +233 50 601 2705.
I hope this article answered your question.
Click here to know Colleges Affiliated To UG.
Check out BA Courses In Legon, BA In Education Courses and City Campus.
Click Here to know more about the UG Department of English.
Ever heard about the University of Ghana Credit Union? Click Here to read more.
Read more about the University of Ghana Sports Directorate.
Check out Public Universities In Ghana.
Get to know Private Universities In Ghana.
Read about the Garden City University College.
Click Here to know how to apply to Central University.
Know more about Africa's Finest Private University, Ashesi University.
Click Here to know more about Pentecost University.
Check out the Dominion University College.
How well do you know Takoradi Technical University? Find out Here.
Read more about Ghana's Premier Technical University, Accra Technical University.
Kindly note that this information will constantly be updated so keep visiting this page to read more.
Do not hesitate to use the comment space below if you have any questions or concerns about the recruitment.
Kindly stay tuned and share this article with your friends.
Thanks for reading.