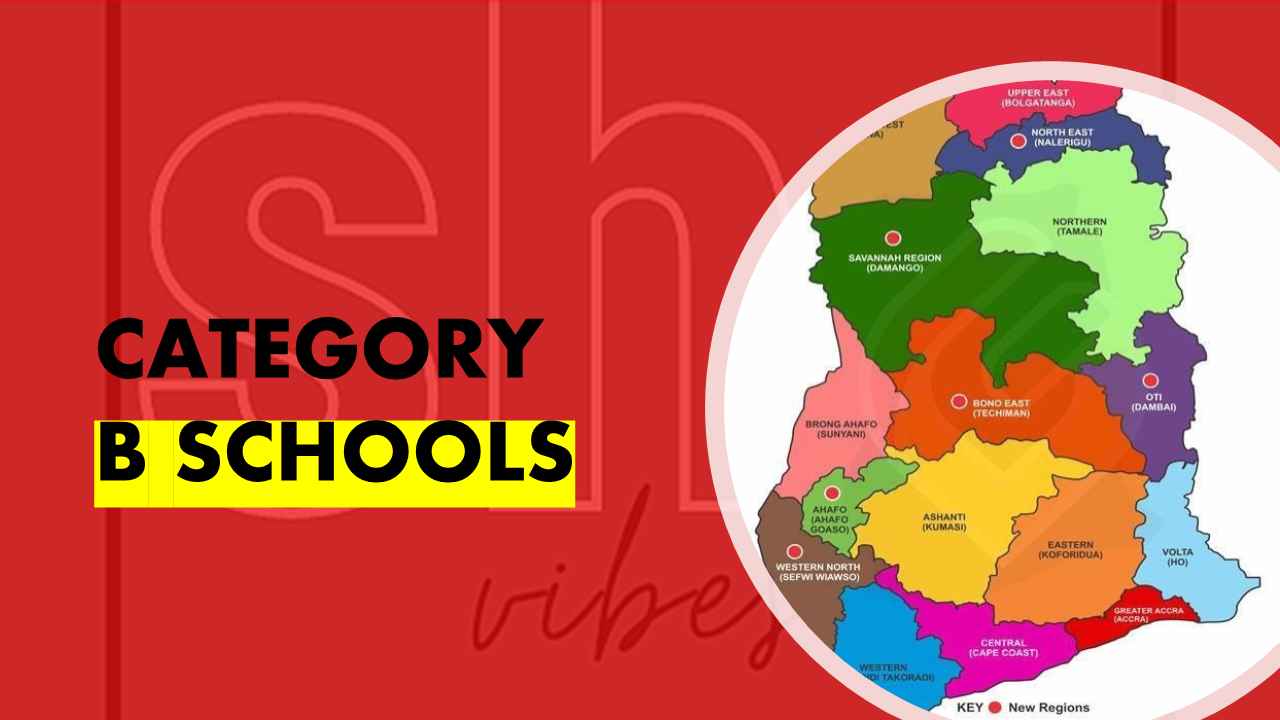 The following are classified category B schools in Ashanti Region.
The Free Senior High School Secretariat classify schools with due consideration for many parameters. Some may include infrastructure, academic performance  among many other factors.
Various entities have different criteria for categorizing schools.
Many schools continue to aspire to move up the ladder in the categorization of schools. Low categorized schools are often times targeted in the distribution of interventions by agencies.
The following are classified as Category B schools in the Ashanti Region.
CATEGORY OF SCHOOLS IN ASHANTI REGION
No. SCHOOL NAME OPTION
1 St. Louis Senior High, Kumasi A
2 Kumasi High School A
3 Opoku Ware Senior High A
4 Prempeh College A
5 T. I. Ahmadiyya Senior High , Kumasi A
6 Yaa Asantewaa Girls Senior High . A
7 Dompoase Senior High B
8 Fomena T.I. Ahmad Senior High B
9 Asare Bediako Senior High . B
10 New Edubiase Senior High B
11 Akrofuom Senior High/Tech B
12 Otumfuo Osei Tutu II College B
13 Aduman Senior High B
14 St. Michael's Senior High, Ahenkro B
15 Maabang Senior High/Tech B
16 Tepa Senior High B
17 St. Mary's Girl's Senior High, Konongo B
18 Wesley Senior High, Konongo . B
19 Konongo Odumase Senior High . B
20 Collins Senior High/Commercial, Agogo B
21 Bompata Presby Senior High B
22 Kumasi Academy B
23 Sakafia Islamic Senior High B
24 Afua Kobi Ampem Girls' Senior High B
25 Mpasatia Senior High/Tech B
26 Osei Tutu Senior High, Akropong B
27 Toase Senior High B
28 S.D.A. Senior High, Bekwai B
29 St. Joseph Senior High/Tech, Ahwiren B
30 Denyaseman Cath.Senior High B
31 Ofoase Kokoben Senior High B
32 Oppong Mem. Senior High B
33 Bosome Senior High/Tech. B
34 Beposo Senior High B
35 Jachie Pramso Senior High B
36 Juaben Senior High B
37 Sekyedumase Senior High/Tech B
38 Anglican Senior High, Kumasi B
39 KNUST Senior High B
40 Nuru-Ameen Islamic Senior High, Asewase B
41 Al-Azariya Islamic Snr. High, Kumasi B
42 Adventist Senior High, Kumasi B
43 Kumasi Girls Senior High B
44 Serwaah Nyarko Girls' Snr. High B
45 Armed Forces Senior High/Tech, Kumasi B
46 Osei Kyeretwie Senior High B
47 Asanteman Senior High B
48 St. Hubert Sem/Senior High, Kumasi B
49 Tawheed Senior High. B
50 Kumasi Wesley Girls High Sch B
51 Islamic Senior High, Ampabame B
52 Kofiase Adventist Senior High/Tech. B
53 St. Monica's Senior High, Mampong B
54 Christ the King Cath., Obuasi B
55 St. Jerome Senior High, Abofour B
56 Dwamena Akenten Senior High B
57 Ghana Muslim Mission Senior High B
58 Nsutaman Cath. Senior High B
59 T. I. Ahmadiyya Girl's Senior High, Asokore B
60 Tweneboa Kodua Senior High B
61 Bankoman Senior High B
62 Konadu Yiadom Catholic Senior High B
63 S.D.A. Senior High, Agona B
64 Agona Senior High/Tech B
65 Bodwesango Senior High C
66 Afigyaman Senior High School C
67 Adugyama Comm. Senior High C
68 Mankranso Senior High C
69 Jacobu Senior High/Tech. C
70 Tweapease Senior High School C
71 Manso-Adubia Senior High C
72 Mansoman Senior High C
73 Esaase Bontefufuo Snr. High/Tech. C
74 Agogo State College C
75 Owerriman Senior High C
76 Banka Comm. Senior High C
77 Ofoase Senior High/Tech C
78 Juaso Senior High/Tech C
79 Parkoso Comm. Senior High C
80 Atwima Kwanwoma Snr High/Tech C
81 Kwanwoma Senior High/Tech C
82 Adobewora Comm. Senior High C
83 Nyinahin Cath. Senior High C
84 Nkawie Senior High/Tech C
85 Barekese Senior High C
86 Wesley High School, Bekwai C
87 St. George's Senior High Tech. C
88 Bosomtwe Oyoko Comm. Senior High C
89 Osei Adutwum Senior High C
90 St. Sebastian Cath. Senior High C
91 Ejisu Senior High/Tech C
92 Ejisuman Senior High C
93 Bonwire Senior High/Tech C
94 Achinakrom Senior High C
95 Ejuraman Anglican Senior High C
96 Akwesi Awobaa Senior High C
97 Pentecost Senior High, Kumasi C
98 Uthmaniya Senior High, Tafo C
99 Agric Nzema Senior High, Kumasi C
100 Kumasi Senior High/Tech C
101 Adventist Girls Senior High, Ntonso C
102 Adanwomase Senior High C
103 Kofi Adjei Senior High/Tech C
104 Antoa Senior High C
105 Simms Senior High/Com. C
106 Gyaama Pensan Senior High/Tech C
107 Amaniampong Senior High C
108 Opoku Agyeman Senior High/Tech C
109 St. Joseph Sem/Senior High, Mampong C
110 Obuasi Senior High/Tech C
111 Namong Senior High/Tech C
112 Asuoso Comm. Senior High C
113 Akumadan Senior High C
114 Nkenkansu Community Senior High C
115 Presby Senior High/Tech, Kwamang C
116 Tijjaniya Senior High C
117 Effiduase Senior High/Tech C
118 Effiduase Senior High/Com C
119 Dadease Agric Senior High C
120 Bodomase Senior High/Tech C
121 Okomfo Anokye Senior High C
122 Adu Gyamfi Senior High C
123 Sabronum Methodist Senior High/Tech C
124 Prince Of Peace Girls C
125 Jubilee Senior High C
126 Church Of Christ Senior High C
127 Kurofa Methodist Senior High C
128 Wiafe Akenten Presby Senior High C
129 Spiritan Senior High C
130 Onwe senior High Senior C
131 Kumasi Tech. Inst. A
132 Methodist Technincal Institute C
133 St. Michael Tech/Voc Inst C
134 Krobea Asante Tec/Voc Inst. B
135 J.A. Kuffuor Senior High School C