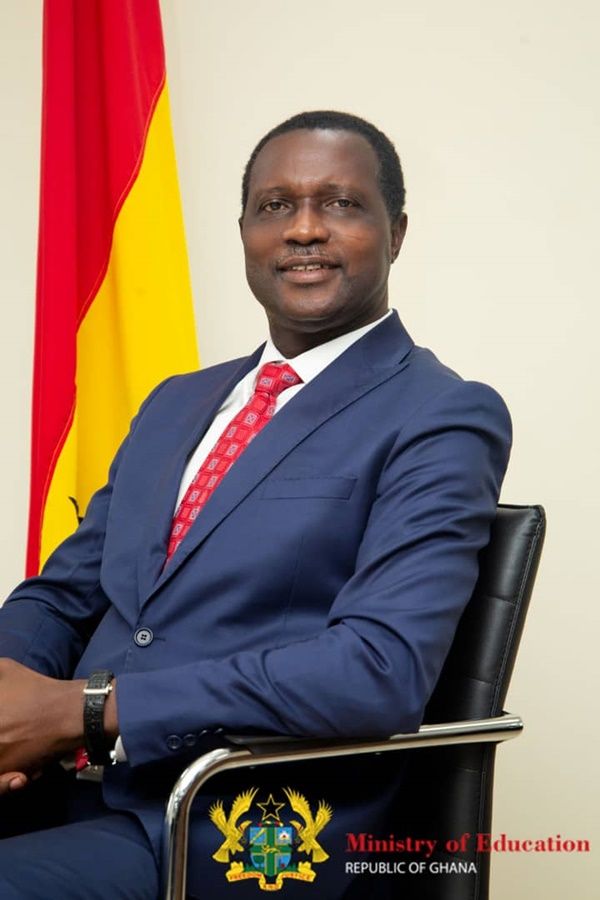 Biography Of The Minister Of Education.
Dr. Yaw Osei Adutwum is the Minister of Education and member of the Seventh Parliament of the Fourth Republic of Ghana representing the Bosomtwe Constituency in the Ashanti Region on the ticket of the New Patriotic Party.
He is well-known for his unannounced teaching visits to schools although he is not in active teaching service.
Early Life And Education.
Dr. Yaw Osei Adutwum was born on 9th April, 1964 at Jachie in the Ashanti Region of Ghana.
He obtained a Bachelor's degree in Land Economy/ Business Administration with a major in Real Estate from the Kwame Nkrumah University of Science and Technology, Ghana. 
Dr. Yaw Osei Adutwum holds a Master's degree in Education Management from the University of La Verne, California and a PhD in Educational Policy, Planning and Administration from the University of Southern California.
He is also an alumnus of Kumasi High School in the Ashanti Region where he obtained his Advanced Level education certificate.
Career And Achievements.
He is the founder of the New Designs Charter Schools in Los Angeles, California.
Before this, he worked as a Mathematics and Information Technology teacher at the Manual Arts High School in Los Angeles, California for ten years. 
During this period, he founded the International Studies Academy which served as a small learning community for students to thrive academically and socially. 
He also served as the lead Mathematics teacher at the University of California/Manual Arts Neighborhood Academic Initiative (NAI). 
He was part of the task force established by the National Research Center for Career and Technical Education to develop a national model for career and technical education in High Schools and Colleges in the United States.
In March 2017, Dr. Yaw Osei Adutwum was appointed by His Excellency Nana Addo Dankwa Akufo-Addo to serve as Deputy Minister for Education. 
In 2019, he was voted the Best Performing Deputy Minister of the Year by two research bodies:
Alliance for Social Equity and Public Accountability (ASEPA) and FAKS Investigative Services.
On 5 March 2021, He was appointed by Nana Akufo-Addo as the Minister of Education.
He is also part of the Works and Housing Committee as well as the Poverty Reduction Strategy Committee in the seventh (7th) Parliament of the fourth (4th) Republic of Ghana.
His Passion.
Dr. Yaw Osei Adutwum is passionate about Education. Education is what has brought him this far and afforded him all the opportunities he has had.
Born in the deprived town of Jachie his only lifeline was Education. He dreams of a Ghana where every child regardless of their background, whether poor or privileged will be afforded equal opportunity.
Access, equity, quality and relance is what he intends to bring to Education in Ghana.
He believes that a whole school reform, emphasis on STEM/STEAM, a review of our curriculum to make our graduates fit for purpose will drive the socio-economic development of Ghana and getting it right will turn the fortunes of the nation around.
Dr. Yaw Osei Adutwum has a dream and that dream is that our education will be able to shape the aspirations of Ghanaians for the transformation that we all seek.
He believes that, to prepare Ghanaian students to be career ready, schools need to teach and adopt the 4Cs of the 21st Century Skills which are Critical thinking, Creativity, Collaboration and Communication.
The revision of our curriculum will help us realize this.
As the Minister of Education, he is honoured and humbled by the confidence entrusted in him by the President, His excellency Nana Addo Dankwa Akufo-Addo.
His motto is that; "If all hands are on deck, the Ghanaian dream will be a reality. You too can make it and you too can become an even better version of Dr. Yaw Osei Adutwum."
Personal life.
He is married with a child. He is a Christian and worships at The Church Of Pentecost.
I hope this article answered your question.
Please check out GES SHS Placement.
Also check out the GES Promotion Portal.
Get to know about the GES Recruitment.
Do you want to know more about the Ghana Education Service? Find out Here.
Get to know more about NaSIA and NaCCA.
Know how to get Your Teachers' Registered Number Through The NTC Portal Here.
Also check out NTC Here.
Check out the NTA Portal Here.
Know how to apply for the NTC Licensure Exams.
How well do you know the University Of Education, Winneba? Read Here.
Know more about the Ministry Of Education.
Kindly note that this information will constantly be updated so keep visiting this page to read more.
Do not hesitate to use the comment space below if you have any questions or concerns about the recruitment.
Kindly stay tuned and share this article with your friends.
Thanks for reading.