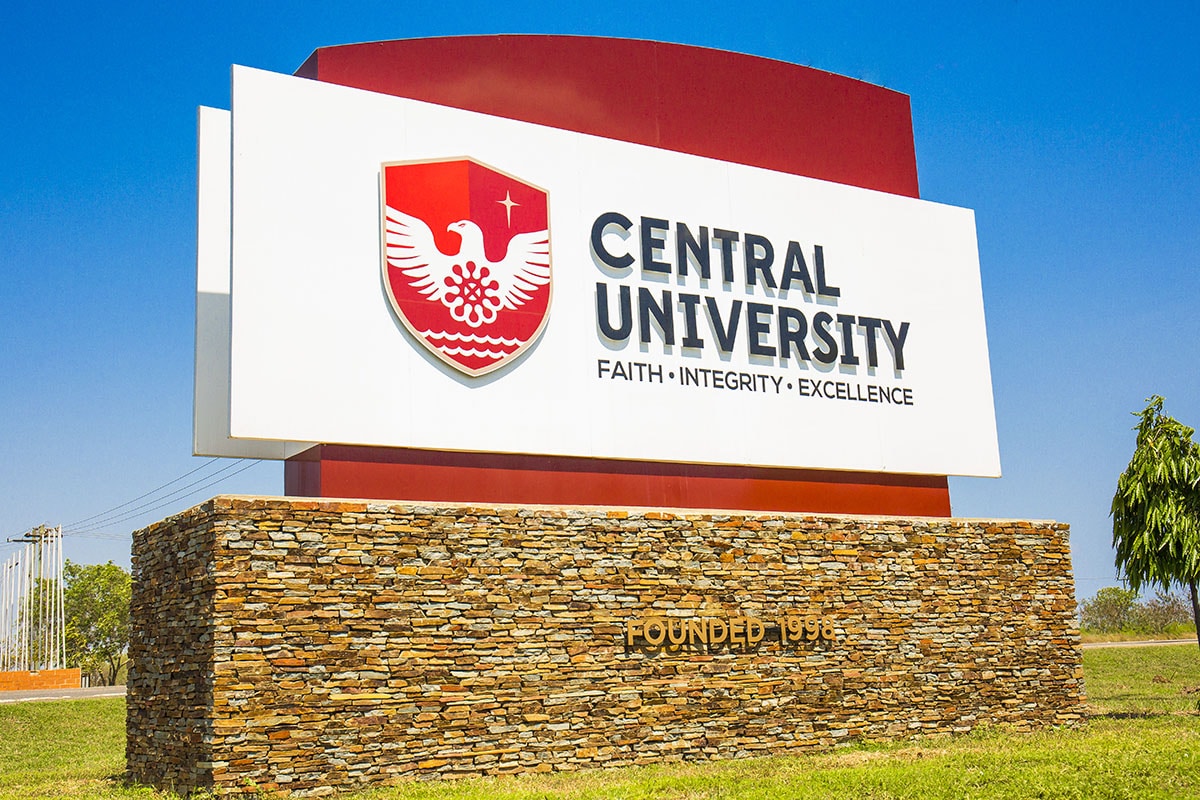 Central University, established in October 1988, is the largest private university in Ghana. It is an educational initiative of the International Central Gospel Church (ICGC).
CU started as a Pastoral Training Institute, then it was converted to Central Christian College in 1993. It was later changed to Central University College in 1998 after it was accredited by the National Accreditation Board to offer tertiary programmes.
Before it gained Presidential Charter and became a fully fledged University in January 2016, it was affiliated to the University of Cape Coast and was renamed Central University.
Central University Vision, Mission And Core Values.
Vision.
Raising virtuous and transformational leaders for our world
Mission.
Commitment to nurturing a vibrant community conducive for the study, creation and dissemination of knowledge through research, training and service.
Core Values.
Central University is guided by three tenets that form the basis of their activities: Faith, Integrity and Excellence.
Central University Faculties.
The Central University has eight (8) faculties. They are as follows:
Central Business School.
Bachelor of Science in Agriculture Economics.
Bachelor of Science in Management Studies.
Bachelor of Science in Agribusiness.
Bachelor of Science in Banking and Finance.
Bachelor of Science in Business Administration with options in: Marketing, Human Resource Management and Accounting.
Faculty Of Law.
Faculty Of Arts And Social Sciences.
Bachelor of Science in Economics.
Bachelor of Arts in Environment and Development Studies.
Bachelor of Arts in Communication Studies.
Bachelor of Science in Psychology.
Bachelor of Arts in Sociology.
Bachelor of Arts in Social Work.
Bachelor of Arts in French.
Department Of Theology And Education.
Bachelor of Arts in Theology.
Faculty Of Architecture And Design.
Bachelor of Architecture.
Bachelor of Science in Planning.
Bachelor of Science in Real Estate.
Bachelor of Science in Graphic Design.
Bachelor of Science in Fashion Design.
Bachelor of Science in Landscape Design.
Bachelor of Science in Interior Design.
School Of Engineering And Technology.
Bachelor of Science in Computer Science.
Bachelor of Science in Civil Engineering.
Bachelor of Science in Information Technology.
Bachelor of Science in Environmental Engineering.
Department Of Pharmacy.
School Of Medicine And Health Sciences.
Bachelor of Science in Nursing.
Bachelor of Science in Physician Assistantship.
Bachelor of Science in Public Health.
Central University Graduate Programmes.
The constituent academic and research units of CU School of Graduate Studies include the graduate programmes and graduate research in:
i. Central Business School.
il. Faculty of Arts and Social Sciences.
ili. School of Pharmacy.
iv. School of Architecture and Design.
V. School of Medicine and Health Sciences.
Vi. School of Engineering and Technology.
Vii. William Ofori-Atta Institute of Integrity.
Vill. Centre for Open and Distance Education.
With Postgraduate degrees in:
MPhil (Theology).
Phil (Economics).
Phil (Education).
MA (Religious Studies).
MBA (Finance).
MBA (Marketing).
MBA (General Management).
MBA (Human Resource Management).
Executive Masters in Leadership and Governance.
MA Teaching English as a Second Language (TESL).
MSc Marketing Research.
MBA Marketing -18months.
MBA Agribusiness- 18 months.
MA Education.
Post Graduate Diploma in Education.
Central University Fee Payment Procedures.
Fee payments may be made at any Ecobank branch with cash or a Bankers Draft.
Miscellaneous payments of less than GHC 35 may be made in cash at the Finance Office.
All Freshmen students must pay all fees for a semester before the first day of class.
Continuing students must pay ½ of total fees for the semester before the first day of class. The remaining fees must be paid within four (4) weeks of the start of the semester. Payments not made by this deadline will incur a penalty. Please contact the Finance Office for more information on penalties.
IMPORTANT NOTICE: Under no circumstances will students be allowed to take final exams until their fees for the semester have been paid in full.
Financial Aid.
Scholarships are available for CBS, STM and FASS students in level 200 and 300 with at least a cumulative grade point average (CGPA) of 3.0.
Interested students should pick one from the Dean of students' office.
There are various categories of scholarship and financial aid opportunities available to assist you with your tuition here at Central University.
Brilliant but needy students can apply for the Central Aid Scholarship.
ICGC members as well as their dependents are eligible for discounts.
CU Alumni are eligible for a discount on their school fees.
PAYMENT FOR FEES BY INTERNATIONAL STUDENTS APPLICANTS.
International Students paying fees from their home country can pay via wire transfer into our Ecobank account with the details below. Nigerians in particular are advised to use Ecobank Nigeria since the transfer takes 1 day, as compared to other banks which take between 2 to 5 working days.
Fees received into this account will then be credited to the student's account in the transflow.
Student information required as part of the transfer information are;
Fresh Students : Student's Name and Applicant ID (Semester 1 only).
Continuing Students : Student Name and Registration Number (ID Number)
ACCOUNT DETAILS.
ACCOUNT NAME: Central Univ. College Foreign Collection.
BANKERS: Ecobank Ghana Limited.
BRANCH: Tudu.
ADDRESS: 7TH AVENUE RIDGE WEST, PMB GPO, Accra.
TELEPHONE: 0302-681146/8.
ACCOUNT NO.: 0049104402563703.
SWIFT CODE: ECOCGHAC.
Central University Contact Details.
Central University, Miotso near Dawhenya.
Off the Accra – Aflao Road.
P O Box 2305 Tema or
P.O BOX DS 2310 Dansoman, Accra- Ghana -West Africa
Admissions: +233 0307 020540 | +233 0303 318583.
Main: +233 0303 318580 | 030 7020545 (Miotso) | +233 0302 313185 (Mataheko) I +233 0302 396189 (Kumasi).
Whatsapp:
+233 023 331 3180.
I hope this article answered your question.
Click here to know Colleges Affiliated To UG.
Check out BA Courses In Legon, BA In Education Courses and City Campus.
Click Here to know more about the UG Department of English.
Ever heard about the University of Ghana Credit Union? Click Here to read more.
Read more about the University of Ghana Sports Directorate.
Check out Public Universities In Ghana.
Get to know Private Universities In Ghana.
Read about the Garden City University College.
Kindly note that this information will constantly be updated so keep visiting this page to read more.
Do not hesitate to use the comment space below if you have any questions or concerns about the recruitment.
Kindly stay tuned and share this article with your friends.
Thanks for reading.