COUNTRIES WHERE IELTS IS RECOGNIZED
Countries Which Accept IELTS for job, education and immigration purposes
COUNTRIES WHERE IELTS IS RECOGNIZED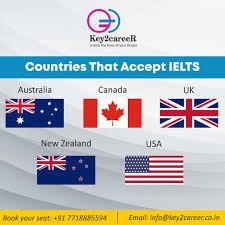 IELTS is an abbreviation used by many people worldwide. You might have been wondering what exactly this abbreviation meant and why it is a requirement for anyone who wants to travel to certain anglophone countries.
This article seeks to solve your vagueness as well as broaden your knowledge on IELTS.
https://www.britishcouncil.org.gh states that;  "IELTS – the International English Language Testing System – is the world's most popular English language test.
It is developed by some of the world's leading experts in language assessment and evaluates all of your English skills – reading, writing, listening and speaking."
In an earlier post, I shared about What You Need To Know About IELTS Ghana. You can read it Here
Below are countries which accept IELTS for job, education and immigration purposes.
Countries Where IELTS Is Recognized
United States of America(U.S.A)
FAQs
Which countries can I go with IELTS?
IELTS is accepted as proof of English language ability for study, work and migration in Australia, Canada, New Zealand and the UK. Each country sets its own IELTS score requirements which we have listed below.
Which country does not accept IELTS?
There are also few universities in countries like EU countries (except UK) Norway, Germany, Holland, USA, Malaysia, India where they do not lay down IELTS and TOEFL as a criteria for admission abroad.
Does USA accept IELTS?
USA accept IELTS scores as proof of English language proficiency. Major institutions all over the USA recognise that IELTS gives an accurate reflection of your ability to understand, read, write and speak English.
Can I get visa without IELTS?
Yes, it is possible to get a study visa without IELTS. Many countries provide study visas without IELTS if you have sound educational grades and meet all other requirements. You have to submit your application for a study visa.
Can I get a job abroad with IELTS?
IELTS is accepted as evidence of English language proficiency for study, work and migration in Australia, Canada, New Zealand, and the UK. Each country sets its own IELTS requirements. The score you need depends on your visa, and where you plan to study or work.
How long is IELTS valid?
Test Report Forms are valid for two (2) years. You can attend IELTS as many times as you like. You can use any result that you wish.
Which IELTS job is best?
If you want to move to an English-speaking country to study, then you should take the IELTS Academic test. For work or immigration, the IELTS General Training test is recommended.
Can I move to USA without IELTS?
Is IELTS required for a USA student visa? IELTS is not a mandatory requirement for a USA student visa for those who have completed an international baccalaureate or previous studies from an English-speaking country.
What is the benefits of IELTS?
Taking the IELTS test can enhance your employment prospects.
Excellent communication skills are essential these days as fifty-five countries have English as their first language.
Demonstrating a good command of the language could open up options for you to pursue a career in a foreign country.
Which country is best for IELTS?
Most popular countries where IELTS is accepted for University admissions are the UK, Australia, New Zealand, USA, and Canada. The exam mainly measures the ability of test-takers to communicate in the four basic English language skills – listening, reading, speaking, and writing.
Conclusion
I hope this article has been able to enlighten you about  countries where IELTS is recognized.
You can start your IELTS journey by frequently visiting our page for more information.
Share this article with your friends on social media platforms to show your support.
Do not hesitate to use the comment space below if you have any questions, concerns or thoughts.