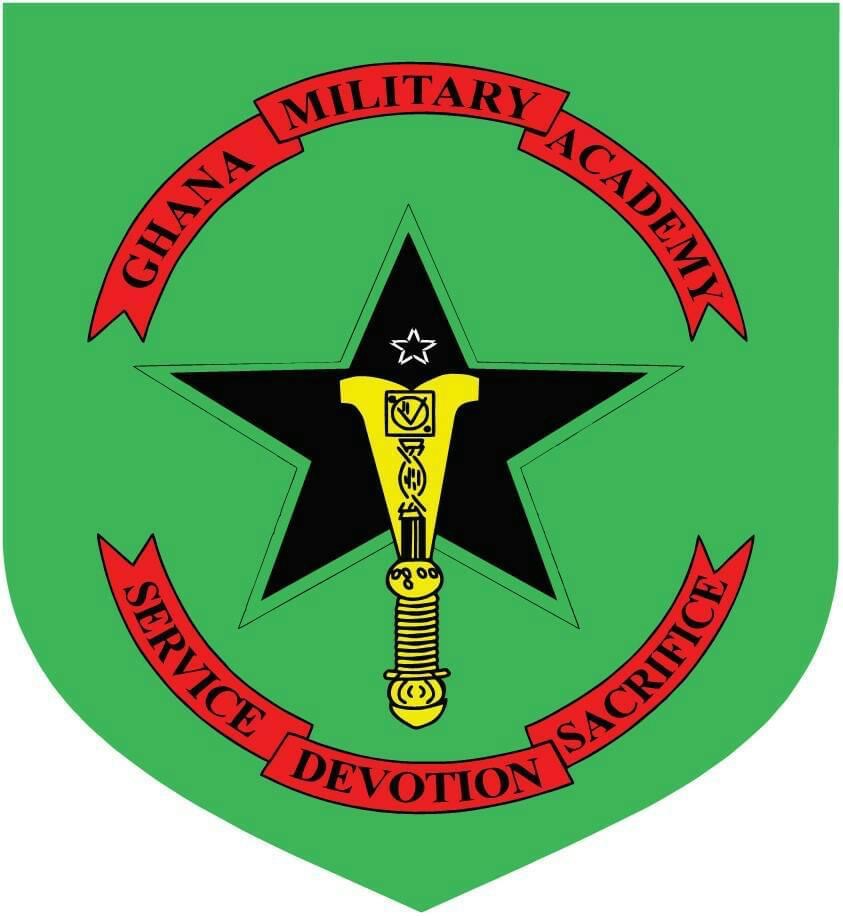 Established on the 1st of April, 1960, the Ghana Military Academy (GMA), is committed to commissioning potential Ghanaian officers for the Ghana Armed Forces.
Minimum Requirement To The Ghana Military Academy.
The basic academic requirement for entering into the Ghana Military Academy is the Senior High School certificate(SSSCE or WASSCE) to a minimum of a first degree from any recognised university.
Ghana Military Academy (GMA) Courses/Programmes.
GMA Runs two (2) courses, namely the Regular Career Course (RCC) and the Short Service Commission /Special Duties Course (SSC/SD).
The Regular Career Course:
The Regular Course is divided into two parts. These are the Standard Military Course (SMC) which is for a period four (4) months and the Regular Career Course covering a period of eleven (11) months.
The duration for The Regular Course is a total of fifteen (15) months. The course starts at the beginning of May and ends in August of the following year.
The Regular Career Course training includes a two (2) week of jungle training at the Jungle Warfare School at Achiase in the Eastern Region. 
The cadets also undertake a week of mountaineering at Amedzofe in the Volta Region. 
All graduating cadets of the Regular Course are granted Regular Commission into the Ghana Armed Forces.
The Short Service and Special Duties Course:
The Short Service Commission and Special Duties Course is a six (6) months course run for direct entry professionals and servicemen whose services are required by the Armed Forces as specialist officers. 
The course leads to a Short Service /Special Duties Commission into the Armed Forces. With the revised training regime, the course starts in February and ends in August of the same year.
Special Medical Intake.
The training package is a compressed form of the Short Service Commission and Special duties Course.
It involves twelve (12) weeks standard military training aimed at improving the military bearing, physical fitness and leadership qualities among other virtues, in the officer cadets.
The training is made up of a four (4) week "Ginger" and an eight (8) week post "Ginger" period. 
It includes classroom lessons and field exercises at Bundase, Aburi Mountains, and the Michel Camp- Zenu-katamanso-Gbatsona general areas. 
Other tactical exercises are held in the Michel camp plains to rehearse the cadets in conventional Warfare.
Introduction to jungle Operations is done at the Jungle Warfare school at Achiase, Barracks lessons covers tutorials in Drill, Fundamental officer Training, Leadership Training, Tactics, Physical Training, Skill at Arms, Field Craft, Service writing, Military Law, Map Reading, Voice Procedure, Organisation and Roles of the Ghana Armed Forces and Administration in Pace and War.
The Army, Naval and Air Force Cadets continue with their appropriate special service training in Ghana Military Academy after this phase.
Some of the candidates may be selected to finish their studies at foreign institutions such as the Royal Military Academy at Sandhurst in Britain.
The best senior officers are selected periodically to attend the Army Staff College at Camberley in Britain or one of several other senior service schools in foreign countries.
For further details, kindly access their website www.gafonline.mil.gh.
I hope this article answered your question.
Click here to know Colleges Affiliated To UG.
Check out BA Courses In Legon, BA In Education Courses and City Campus.
Click Here to know more about the UG Department of English.
Ever heard about the University of Ghana Credit Union? Click Here to read more.
Read more about the University of Ghana Sports Directorate.
Check out Public Universities In Ghana.
Get to know Private Universities In Ghana.
Read about the Garden City University College.
Click Here to know how to apply to Central University.
Know more about Africa's Finest Private University, Ashesi University.
Click Here to know more about Pentecost University.
Check out the Dominion University College.
How well do you know Takoradi Technical University? Find out Here.
Read more about Ghana's Premier Technical University, Accra Technical University.
Click Here to know more about Sunyani Technical University.
No knowledge is a waste right? Click here to know about Technical Universities In Ghana.
What do you know about Ho Technical University?
Check out Bolgatanga Technical University.
Kindly note that this information will constantly be updated so keep visiting this page to read more.
Do not hesitate to use the comment space below if you have any questions or concerns about the recruitment.
Kindly stay tuned and share this article with your friends.
Thanks for reading.