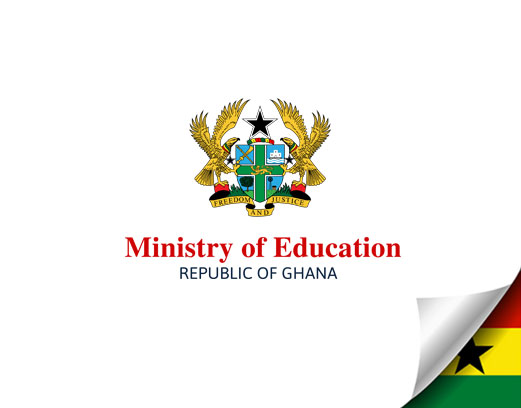 Ghana Ministry Of Education.
The Ghana Ministry of Education is a multi portfolio government ministry of Ghana.
It is responsible for the governance and management of Ghana's education.
It is also responsible for the national education curriculum, primarily instituted by the Ghana Education Service, which is part of the Ministry.
The Ministry of Education was established under the Civil Service Law 327 and under the PNDC Ministry of Education, Ghana Law 1993 with the mandate to provide relevant education to all Ghanaians. 
It was founded in 1957 with its headquarters in Ministries, Accra.
The Ministry of Education's parent agency is the Ghana Education Service and it has several subsidiaries. They are:
National Accreditation Board.
National Service Secretariat.
Ghana Tertiary Education Commission.
West African Examination Council (WAEC).
Ghana Library Authority (GLA).
Commission For Technical And Vocational Training (CTVET).
Ghana Academy of Art and Science.
Funds And Procurement Management Unit.
Ghana Commission for UNESCO.
National Council for Curriculum and Assessment (NaCCA).
National Teaching Council (NTC).
Ghana Book Development Council (GBDC).
National Schools Inspectorate Authority.
Who Heads The Ghana Ministry Of Education.
Dr. Yaw Osei Adutwum heads the Ministry of Education. He was appointed by the president and assumed office in March 2021, succeeding now Minister of Energy, Honourable Matthew Opoku Prempeh. He is also a member of parliament, representing the Bosomtwe Constituency in the Ashanti Region.
For further information and clarification, you can check their official website at http://www.moe.gov.gh.
I hope this article answered your question.
Please check out GES SHS Placement.
Also check out the GES Promotion Portal.
Get to know about the GES Recruitment.
Do you want to know more about the Ghana Education Service? Find out Here.
Get to know more about NaSIA and NaCCA.
Know how to get Your Teachers' Registered Number Through The NTC Portal Here.
Also check out NTC Here.
Check out the NTA Portal Here.
Know how to apply for the NTC Licensure Exams.
How well do you know the University Of Education, Winneba? Read Here.
Kindly note that this information will constantly be updated so keep visiting this page to read more.
Do not hesitate to use the comment space below if you have any questions or concerns about the recruitment.
Kindly stay tuned and share this article with your friends.
Thanks for reading.