How To Check Your WASSCE Results On Phone
The West African Examination Council has released the results for 2022 WASSCE Candidates. Many students have been wondering when the results will be released. Many Students want to assess their results and use it to apply for tertiary education.
We have put together simple step by step guide to check your WASSCE results.
How can I check my WAEC results (Step by step guide)
Select the Type of Examination (e.g. S S S C E).

Select your Examination Year eg. 2003

Enter the Card Serial Number found on the reverse side of your Scratch card.

Enter the 12-digit Personal Identification Number (PIN) on your Scratch card eg. 012345678912.

Confirm your Index Number and Examination Year. This is to ensure that your examination information is correct.

Enter the Email Address for which verification is required.

Click on Submit and wait for the display in the popup window.

This may take several minutes.
How To Buy Result Checker With MoMo
Visit ResultsChecker.com.gh with your smartphone or PC
Choose the card type you want to buy. eg: CSSPS Placement Checker
Enter the number of cards you want to buy and the amount will be automatically calculated
Click on "Buy Now"
You will be taken to a new screen where you enter your name and phone number (Card details will be sent via SMS to the phone number you enter here)
Click on "Proceed to Payment"
On the next screen, choose Mobile Money and enter your MoMo number. You'll be sent an OTP to confirm.
Confirm the payment on your phone.
You will instantly receive an SMS with the BECE Results Checker PIN and Serial and instructions to check.
How to check 2022 WAEC result on your phone via SMS, internet
Step 1:
Type WAECINDEXNUMBERPIN*Examyear through your phone (no spaces in between).
Step 2: Send to 32327
Step 3: Message will be received containing WAEC statement of result
RESULTS CHECKER
BECE (School & Private) (eresults.waecgh.org)
WASSCE (School & Private) (ghana.waecdirect.org)
ABCE / GBCE. (ghana.waecdirect.org)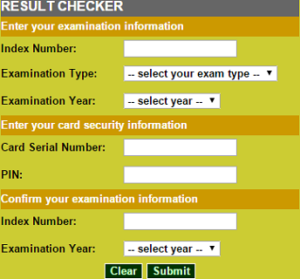 Conclusion
We have outlined the step by step guide to check your wassce results using scratch card or momo as well as other supporting information.
If this article was helpful to you, kindly share and subscribe.
Kindly let us from you on this article.