The Administrative Management of the University of Ghana (UG Legon) has created an online student Portal in recent Years. This portal provides students with much important information on their academics.
The Online Portal created for formal Students of the University of Ghana (UG Legon) can only be accessed by students who have created an account or log in to the portal in order to perform certain vital academic actions at ease e.g. Course Registration.
HOW TO ACCESS THE UNIVERSITY OF GHANA (LEGON) STUDENT PORTAL
You can visit and access the University of Ghana Legon Student Portal using a computer or mobile via the following link :
Legon Student Portal : http://www.ug.edu.gh/students/Legon
MIS WEB Portal : https://itsapp08.ug.edu.gh/pls/prodi03/w99pkg.mi_login
Registered students are provided with a unique user name and password to log into the Student Portal of the website. Here, personalized content is provided, based on a database or similar tool that holds the student data. Students can log on to the education portal of their school and see their current courses, program of study, fees, and other relevant information.
The depth and breadth of information provided varies widely and is often tied to the system architecture of the school.
Some of the specific purpose of using the University of Ghana student portal includes :
1. UNIVERSITY OF GHANA Course Registration.
2. UNIVERSITY OF GHANA (LEGON)Fees payment.
3.Checking Students semester results.
4.Viewing your University of Ghana Admission status and admission letter printing.
5.Acceptance Letter and fee payment.
6.Downloading your University of Ghana transcript.
7.Keeping track of the semester academic calendar.
The following are the main things you will need to login to the University of Ghana Portal.
Mobile phone or laptop with Internet access.
University of Ghana Student username (student ID).
Five digit pin (Your password).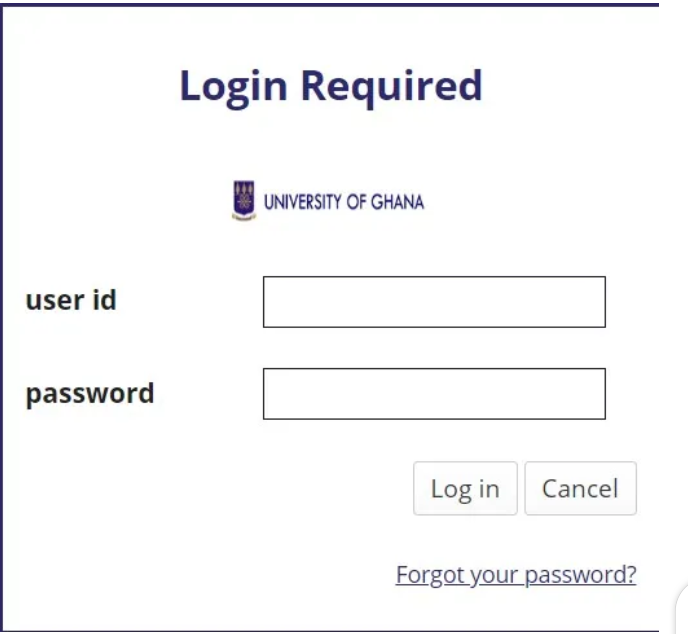 ACCESSING THE UNIVERSITY OF GHANA PORTAL IN SIMPLE STEPS
✓ Visit the University of Ghana Portal Login website from your web browser http://www.ug.edu.gh/students/Legon
✓ Enter your Login ID and Password in the boxes provided respectively.
✓ Finally, Click on the Submit or Login button.
You should be redirected to your official Student Portal where you can access all the information you need.