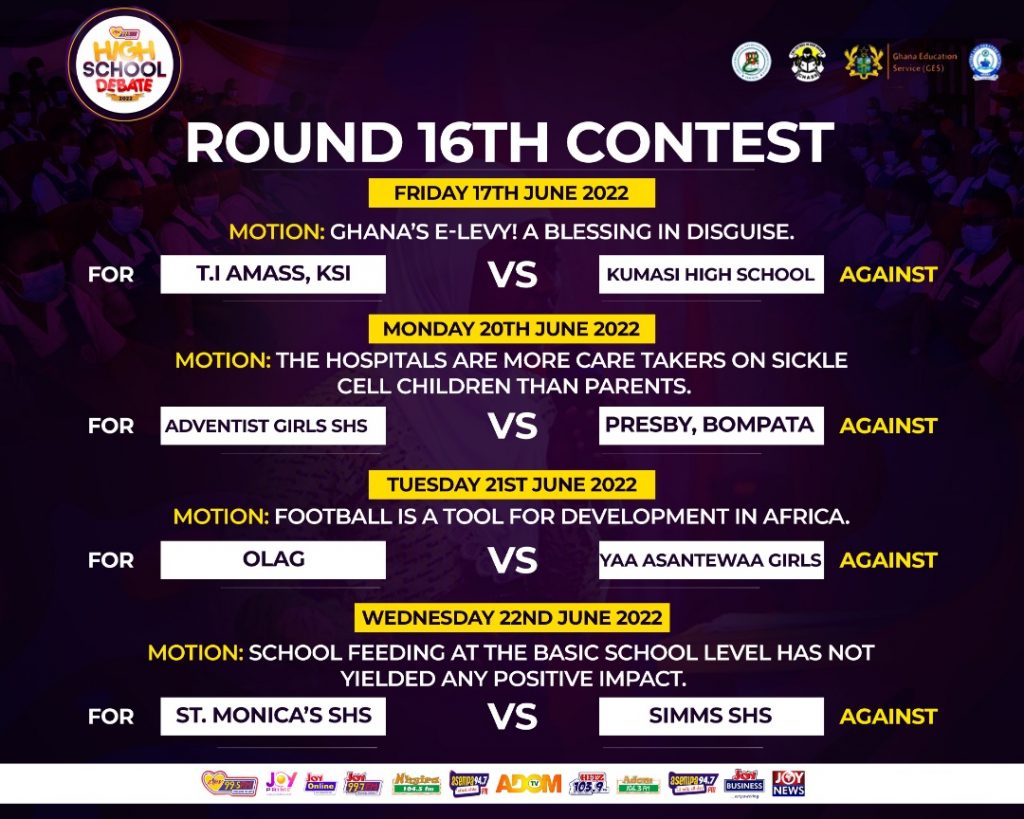 The Launch of the 4th Edition of the High School Debate Competition came off today with some interesting Pairings.
Eight schools were drawn in Pot 1 based on their previous showing in the competition while another eight took pot 2.
The Schools in Pot 1 were then drawn against the schools in Pot 2 alongside their motions and contests.
The outcome of the draw is as follows ;
Tepa SHS vs KNUST SHS
O. T. vs Fomena T. I. Amass
YAGSS vs Our Lady of Grace SHS
Simms SHS vs St. Monica's
OWASS vs St Hubert Seminary
Prempeh College vs Ghana Muslim Mission SHS
Advetist Girls vs Presby SHS, Bompata
T. I. Amass vs Kumasi High School
Tepa (A) VS KNUST (F)
Lincensure examination is not necessary for teachers
O. T SHS(A) vs FOMENA, T. I AMASS(F)
Betting game has more positives than negatives
YAGSS(A) vs OLAG (F)
Football is a tool for development of Africa
Simms (A) vs St Monica's (F)
School feeding at the basic school level has not yielded any positive impact
Owass(A) vs St Hubert (F)
Monetization of our elections, is it a big deal?
Prempeh college (A) vs Ghana Muslim mission (F)
Teachers should be allowed to discipline recalcitrant students
PRESBY SHS, Bompata (A) vs Adventist Girls (F)
THE HOSPITALS ARE MORE CARE TAKERS ON SICKLE CELL CHILDREN THAN PARENTS
Kumasi high schools(A) vs T. I AMASS (F) Ghana's E-levy, a blessing in disguise?