The Ghana Immigration Service is one of the government agencies of Ghana under the Ministry of the Interior. Ghana Immigration is responsible for regulating the examination and authorization of the visa application, entry, and residence permits in Ghana.
The service also ensures the control of foreign nationals in Ghana, facilitation of Ghanaian passport application processing, border control and management, Refugee registration, protection, and management.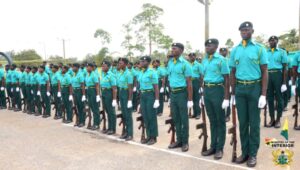 What is the Ghana Immigration Service Salary?
The ranks in Ghana Immigration Service also affects the salary rates. The average salary of the Ghana Immigration Service is GH¢ 1,900.00 – GH¢ 3,336 per month after all tax deductions.
Ghana Immigration Officers are paid based on ranks, so the average salary indicated here may differ based on the rank of the officer.
How long does Ghana immigration service training last?
Ghana Immigration Service Training takes a maximum period of 18 months for regular career course (RCC) officer cadets and 6 months for the short service and special duties commission (SSC/SD) officer cadets.
How much is the Ghana immigration trainee allowance?
The immigration training Allowance is not fixed as it changes with each recruitment period, however from sources, it will range from 800 GHC to 1000 Ghana GHC. This figure is subject to change.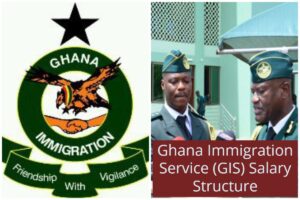 Below are the detailed ranks of the Ghana Immigration Service (GIS) from the most senior officer down to the junior officer:
Comptroller-General of Immigration.
Deputy Comptroller-General of Immigration.
Commissioner of Immigration.
Deputy Commissioner of Immigration.
Assistant Commissioner of Immigration.
Chief superintendent of immigration
superintendent of immigration
Deputy superintendent of immigration
Assistant superintendent of immigration
Inspector
Assistant inspector
Immigration control officer
Assistant
Immigration control officer I
Assistant
Immigration control officer II