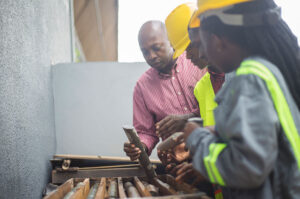 The KNUST College of Engineering (COE) was founded in October 1952 and has over half a century, maintained a reputation of quality training and being the forefront of preparing manpower to support the technological and engineering advancement of Ghana and Africa.
Many well-known Ghanaian academics and professionals, both in and outside Ghana, have passed through the lecture halls/rooms of this prestigious African institution.  The College has a vision to uplift the quality of Engineering Education and promote Technology Advancement in Ghana and Africa.  Currently COE comprises nine (9) departments running 15 academic programmes at the undergraduate and post graduate levels.  These programmes are Civil Engineering, Geomatic Engineering, Electrical Engineering, Telecommunications Engineering, Computer Engineering, Mechanical Engineering, Aerospace Engineering, Agricultural Engineering, Petroleum Engineering
The college in collaboration with the KNUST School of Graduate Studies runs a number of specialized post-graduate programmes such as Masters programmes in Renewable Energy Technologies, Water Resources Engineering and Management, water supply and Environmental Sanitation, Electrical Power Systems, Agro-Environmental Engineering, Bioengineering, and food and Post-Harvest Engineering.
WHY STUDY ENGINEERING AT KNUST?
All our degrees are internationally recognised, so your skills will be transferable anywhere in the world.
Each department has teaching staff who are experts in their fields and are active researchers.
KNUST College of Engineering has a large number of engineering research-rated academics.
The faculty has strong links with industry and government, which commission and fund significant research projects.
Our commitment to teaching and research excellence is matched by our commitment to addressing social challenges through various research interests.
The faculty has an illustrious legacy, with many of its alumni occupying powerful positions in the business world and politics.
Alumni and companies support the faculty through bursaries and scholarships, providing research and study opportunities for students within the faculty.
A wide variety of undergraduate and postgraduate programmes are offered in all departments, giving students the freedom to choose the stream appropriate to their skills and interests.
There is an active exchange programme with other African universities and leading academic institutions around the world, which also brings world-class researchers and teachers to the College.
Our graduates are highly sought after, with most securing employment before they have graduated.
OUR APPROACH
We think of engineers as people who take discoveries from the sciences and use them to solve problems that change the world. KNUST College of Engineering aims to educate engineers who are also leaders, who understand the science of their solutions, of course, but who also understand the people, issues and systems they hope to affect.
KNUST College of Engineering students gain an unrivaled education in the fundamentals of their chosen engineering disciplines, as well a rich education in the liberal arts. The school also provides numerous formal and informal opportunities for students to gain entrepreneurial experience. KNUST faculty and graduates have a long tradition of contributing technologies that have created new industries, new forms of communication and new ways of looking at the world.
THE COLLEGE
The College of Engineering emerged from the former School of Engineering. It comprises of four Faculties, twelve Departments, and two Research Centres. The College of Engineering was established as a School in October 1952 to prepare students for professional qualifications only. It has since grown and expanded, and responded to the human resource and development needs of the country. Now as a College, it has four Faculties with thirteen programs running under nine Departments, and two Research Centres.
The Faculties include the Faculty of Chemical and Materials Engineering, Faculty of Civil and Geomatic Engineering, Faculty of Electrical and Computer Engineering and the Faculty of Mechanical and Agricultural Engineering. The Technology Consultancy Centre (TCC) and The Energy Centre, KNUST are the main research wings of College.
College of Engineering has been at the forefront of innovation for nearly a century, creating pivotal technologies that have transformed the worlds of information technology, communications, health care, energy, business and beyond. The school's faculty, students and alumni have established thousands of companies and laid the technological and business foundations for the Ghanaian Industry. Today, the school continues to seek solutions to important national and international problems and educate leaders who will make the world a better place.
KNUST COLLEGE OF ENGENEERING DEPARTMENTS
THE RESEARCH CENTRES
The College of Engineering runs a 3-tier system of administration which comprise three Faculties with eleven Teaching Departments.