Knust Degree in Midwifery
The KNUST degree in nursing is a health-related program, that is run by the College of Health Sciences which was established in line with the collegiate system and runs a three-tier system. It emerged from the former Faculty of Pharmacy and the School of Medical Sciences. The College has three schools and two faculties, with over twenty Departments and a Research Centre.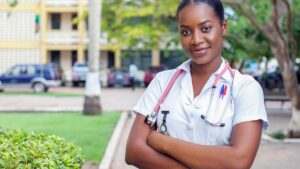 Midwifery is defined as "skilled, knowledgeable and compassionate care for childbearing women, newborn infants and families across the continuum from pregnancy, pregnancy, birth, postpartum and the early weeks of life"
The evidence shows us that midwifery plays a "vital" role, and when provided by educated, trained, regulated, licensed midwives, is associated with improved quality of care and rapid and sustained reductions in maternal and newborn mortality.
Does Knust Offer a Degree in midwifery?
The Faculties and Departments of the College run various postgraduate programs leading to the award of Diplomas, MSc, MPhil, and Ph.D. degrees in almost all areas. Among these programs is the Knust Degree in midwifery.
The KNUST School of Midwifery (Regular) offers a four-year undergraduate course leading to the BSc. (Honours) Degree in Midwifery.
Bachelor BSc. Of Midwifery (Regular) At KNUST Entry Requirement
Wassce Applicants
Credits Pass in three core subjects at WASSCE/SSSCE level namely: Mathematics, English Language, and Integrated Science, and Credits in THREE (3) Elective Science Subjects; Biology, Chemistry, Physics, or Elective Mathematics.
A / O Level Applicants
FIVE (5) credits at O' Level, including Mathematics, English Language and a Science subject, plus THREE (3) A' Level passes in the Sciences (Chemistry and Biology, Physics or Mathematics)
Vision and Mission of the Knust Department of Nursing and midwifery
The vision of the Department is to be internationally recognized as a center of excellence for nursing and midwifery education, practice, leadership, and research in Africa; producing competent nurses and midwives to support the health sector in Ghana, Africa, and the rest of the world.
The mission is to advance knowledge in science and technology by creating a dynamic environment to empower students to succeed by integrating career-focused education and professional skills, research, and community engagement in the training of nurses, midwives, and students in specialized nursing programs to improve the quality of life.
PARTNERSHIPS/ COLLABORATIONS
Several University Colleges running Nursing and Midwifery programs are affiliated with the KNUST/ Department of Nursing, namely;
Garden City University College, Kumasi

St. Karol's School of Nursing, Accra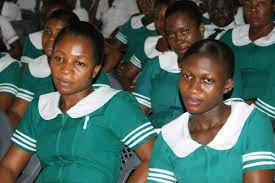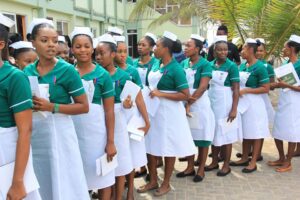 All diploma-awarding nursing and midwifery training institutions under the Ministry of Health (MOH), Ghana are affiliated with KNUST through the Department of Nursing. The Department also runs BSc. Nursing, BSc. Midwifery programs in some selected Nursing and Midwifery training colleges in collaboration with the Ministry of Health.
Our Collaborating institutions include:
Ministry of Health, Ghana

Ghana Health Service

Komfo Anokye Teaching Hospital, Kumasi, Ghana

Korle Bu Teaching Hospital,

Tamale Teaching Hospital

Nursing and Midwifery Council of Ghana, Accra

Relevant Professional bodies

School of Nursing, Ramapo College, New Jersey, USA.

School of Nursing, University of Michigan, Ann Arbor, USA

School of Health Sciences, University of Nottingham, UK