Methodist University Ghana
Affiliated to the Methodist Church Ghana, the Methodist University Ghana is a non-segregated private university that is opened to students of all race. The university was established in October 2000, to solve the problem of many Senior High School graduates not being accepted by many public universities in Ghana on the basis of race, religion, ethnicity and nationality.
Prior to being granted the Presidential Charter on 30th August, 2022, the Methodist University was affiliated to the University of Ghana (UG).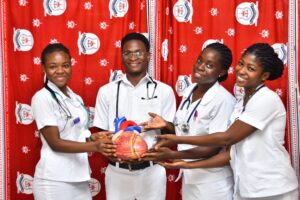 What Is Methodist University Ghana Mission And Vision?
MISSION:
The university exist to impart knowledge and skills in disciplines relevant to national development within the context of general global development and at the same time ensure an all-round development of the student mentally, physically and spiritually on the basis of Christian principles.
VISION:
MUG aims to promote and develop academic excellence, spirituality, morality and service within the Ghanaian society.
Check Your 2022/2023 Admission Status Here.
Methodist University Ghana Campuses
The university has three campuses. They are in Dansoman, Tema and Wenchi.
How Many Faculties Are In Methodist University Ghana?
There are approximately four (4) faculties in the university. They are as follows;
Faculty of Business Administration
Faculty of Arts and Social Sciences
Faculty of Education and Entrepreneurship
MUST READ; Academic City University College Entry Requirement.
MUG Contact Details
Email: info@mug.edu.gh
Website: www.mug.edu.gh
Telephone: (+233) 0307050188, (+233) 0307021268.
Address:
Post Office Box DC 940,
Dansoman, Accra
Opposite Wesley Grammar SHS.
FAQs
Does Methodist University offer degree in nursing?
Two pathways to the Bachelor of Science in Nursing (BSN) degree are offered at Methodist; the Traditional BSN pre-licensure program and the fully online RN-to-BSN Completion program.
How much is UPSA Forms 2022?
Online Serial Numbers (OSN) for UPSA are available for purchase at the cost of GHc230.00 for Ghanaian Applicants and US$120.00 for International Applicants at the following sales points: Any Ecobank or Access Bank branch nation-wide. Any Ghana Post (Post Office) branch nation-wide.
This article was written to enlighten you about Methodist University Ghana.
If you got value, share this article with your friends on social media platforms to show your support.
Do not hesitate to use the comment space below if you have any questions, concerns or thoughts.