Discover the wide array of programmes offered at the University of the Witwatersrand (Wits). Read our contents to learn about the diverse academic disciplines, undergraduate and postgraduate programmes, and frequently asked questions about studying at Wits.
Programmes Offered At The University of the Witwatersrand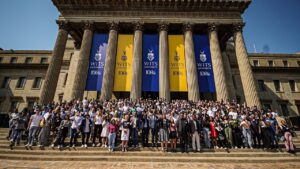 The University of the Witwatersrand (Wits) is renowned for its comprehensive range of academic programmes, offering students opportunities to pursue their passions and develop their skills in various fields. With a focus on excellence and innovation, Wits provides a vibrant learning environment for both undergraduate and postgraduate students. In this content, we will explore the diverse range of programmes available at Wits, highlighting the different faculties and academic disciplines, and answer some frequently asked questions about studying at the university.
GET TO KNOW Johannesburg: The City Where Wits Is Located.
Faculties and Academic Disciplines
Wits consists of various faculties, each encompassing a broad range of academic disciplines. Here are some of the faculties and the programmes they offer:
Faculty of Commerce, Law, and Management
Accounting

Economics

Finance and Investment

Law

Management

Marketing
Faculty of Engineering and the Built Environment
Chemical Engineering

Civil Engineering

Electrical and Information Engineering

Mechanical, Industrial, and Aeronautical Engineering

Architecture and Planning
Faculty of Science
Biological Sciences

Chemistry

Physics

Mathematics

Computer Science
Faculty of Humanities
History

Literature and Language Studies

Philosophy and Ethics

Social Sciences

Archaeology and Anthropology
Faculty of Health Sciences
Medicine

Dentistry

Pharmacy

Nursing

Physiotherapy
SEE ALSO: How To Apply To Wits For 2024 Academic Year.
Wits offers a much broader range of programmes across its faculties. It's important to visit the official Wits website or prospectus for a comprehensive list of programmes available.
FAQs
How do I choose the right programme at Wits?
Choosing the right programme depends on your interests, career aspirations, and academic strengths. Consider your passions, skills, and long-term goals when exploring the various programmes at Wits. Research the curriculum, career prospects, and admission requirements for each programme to make an informed decision.
Can I pursue postgraduate studies at Wits?
Yes, Wits offers a wide range of postgraduate programmes, including Honours, Masters, and Doctoral degrees. These programmes provide opportunities for specialization and advanced research in various fields. Check the specific requirements and application procedures for postgraduate studies on the Wits website.
Are there online or distance learning programmes at Wits?
Yes, Wits offers online and distance learning options for selected programmes. These flexible learning modes are designed to accommodate students who prefer or require remote study. Explore the Wits website or contact the university's distance learning department for more information on available online programmes.
Are there scholarship opportunities for Wits students?
Yes, Wits provides scholarships and financial aid opportunities for eligible students. These scholarships may be based on academic merit, financial need, or specific criteria set by donors. It is advisable to explore the university's scholarship offerings and application procedures on the Wits website.
The University of the Witwatersrand (Wits) offers an extensive range of programmes across diverse academic disciplines, providing students with opportunities to pursue their educational and career goals. Whether you have a passion for science, humanities, business, or health sciences, Wits offers a vibrant learning environment to nurture your talents and broaden your horizons. By exploring the various faculties and programmes at Wits, you can find the perfect fit for your academic journey and set yourself up for a successful future.