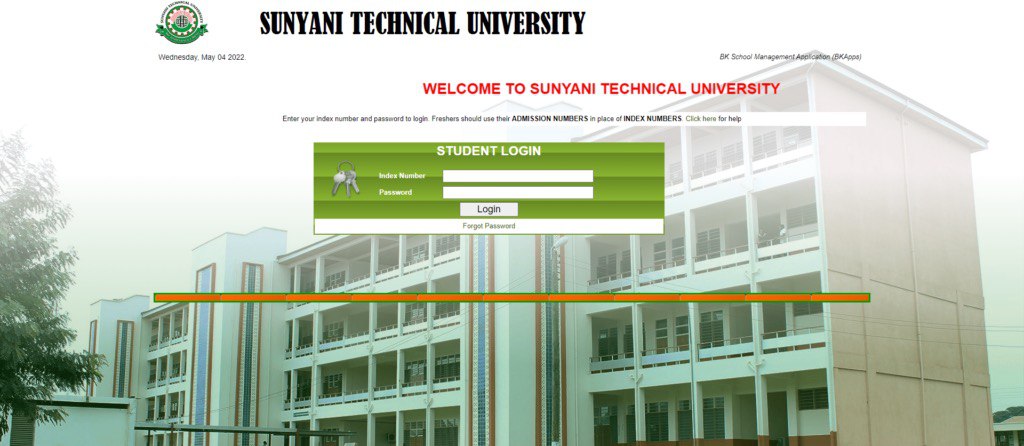 STU Student Portal is designed for former and aspiring students in Sunyani Technical University to create their accounts as well as login to carry out academic activities.
Established in 1967 under the Ghana Education Service, Sunyani Technical University is a public tertiary institution located northeast of Asufufu in the Bono Region of Ghana.
Payment of fees, Registration of Courses, Results Checking, Application of Admission Online, Viewing of Admission List, Acceptance Fees, Payment Details, Transcript, Academic Calendar, Extra Credit Hours, Deferment of Admission, et cetera are activities students use the Portal for.
The student login Portal can be accessed via smart devices such as laptops, tablets or mobile phones.
Sunyani Technical University Student Portal.
Before the commencement of every academic year, students are required to login for their online course registration and other details.
Below are the procedures to follow to login to STU Student Portal.
If you are not on the LOGIN page, visit the University's website (www.stu.edu.gh) and click Student button on the navigation button and click Login.
On the LOGIN page, enter your admission number (for fresh students) or Index number (for continuing students).
If you are continuing student, enter your password and click the Login button.
Fresh students should click the Login button without entering password as shown below:
For Fresh Students Only:
Select your Date of Birth and create a new Password as shown below after clicking on the Login button:
Click Submit for Validation button for the system to check if your date of birth selected matches your Date of Birth entered during your admission application.
If Date of birth did not match, there would be an error message and you would have to go through the process again until you provide the correct Date of birth.
The message below is displayed if things go right.
Enter the Admission number or Index number (for continuing students) and the newly created password to login in the login page shown in step one.
After Login, click the Help button in your Home page to know how to register, check your fee payment account records, check results, et cetera.
Click the Register button in the Home page to register for the semester.
I hope this article answered your question.
Check out Public Universities In Ghana.
Get to know Private Universities In Ghana.
Read about the Cape Coast Technical University Student Portal.
Click Here to know how to access Koforidua Technical University Student Portal.
Know more about Takoradi Technical University Student Portal Here.
Click Here to know more about Pentecost University.
Check out the Dominion University College.
How well do you know Takoradi Technical University? Find out Here.
Read more about Ghana's Premier Technical University, Accra Technical University.
Click Here to know more about Sunyani Technical University.
No knowledge is a waste right? Click here to know about Technical Universities In Ghana.
What do you know about Ho Technical University?
Check out Bolgatanga Technical University.
Kindly note that this information will constantly be updated so keep visiting this page to read more.
Do not hesitate to use the comment space below if you have any questions or concerns about the recruitment.
Kindly stay tuned and share this article with your friends.
Thanks for reading.