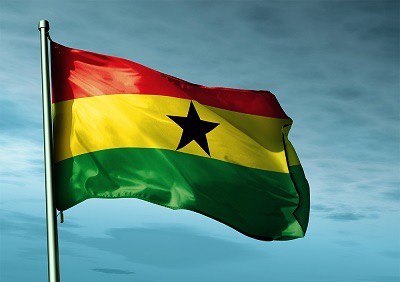 The Ghana National Flag was designed by Mrs. Theodosia Salome Okoh, a renowned Ghanaian artist, to replace the flag of the United Kingdom after Ghana gained independence in 1957. 
The flag of Ghana consists of the colours RED, GOLD and GREEN in horizontal stripes with a five pointed BLACK STAR in the centre of the gold stripe.
Below are the real meaning of each colour used in the Ghana flag.
Meaning Of The Colours In The Ghana National Flag.
RED: Represent the blood of our forefathers who led the struggle of independence and shared their blood through death.
GOLD: represents the mineral resources(Gold) in Ghana, helping to harness the wealth of the country. They are mostly found in Obuasi in the Ashanti Region and Tarkwas in the Western Region. Ghana's other mineral resources are diamond, bauxite, and manganese.
GREEN: represents Ghana's rich forests and natural wealth which provide the nation with oil, food, and cash crops such as cocoa, timber, sheabutter, and all kinds of food products for the country.
BLACK STAR: represent the emancipation of Africa and unity against colonialism.
The black star was adopted from the flag of the Black Star Line, a shipping line incorporated by Marcus Garvey which operated from 1919 to 1922.
It is where the Ghana national football team derive their nickname, the "Black Stars".
I hope this article answered your question.
Click here to know Colleges Affiliated To UG.
Check out BA Courses In Legon, BA In Education Courses and City Campus.
Click Here to know more about the UG Department of English.
Ever heard about the University of Ghana Credit Union? Click Here to read more.
Read more about the University of Ghana Sports Directorate.
Check out Public Universities In Ghana.
Get to know Private Universities In Ghana.
Read about the Garden City University College.
Click Here to know how to apply to Central University.
Know more about Africa's Finest Private University, Ashesi University.
Click Here to know more about Pentecost University.
Check out the Dominion University College.
How well do you know Takoradi Technical University? Find out Here.
Read more about Ghana's Premier Technical University, Accra Technical University.
Click Here to know more about Sunyani Technical University.
No knowledge is a waste right? Click here to know about Technical Universities In Ghana.
What do you know about Ho Technical University?
Check out Bolgatanga Technical University.
Kindly note that this information will constantly be updated so keep visiting this page to read more.
Do not hesitate to use the comment space below if you have any questions or concerns about the recruitment.
Kindly stay tuned and share this article with your friends.
Thanks for reading.