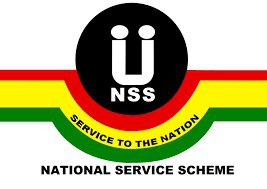 The National Service Scheme (NSS) is a Government initiative under the auspices of the Ghana Ministry of Education with a National Secretariat in Accra, and offices in all administrative regions and districts across the country.
It was set up in 1973 to spread out a pool of skilled manpower drawn primarily from tertiary institutions to support the development efforts of both the public and private sectors in Ghana.
NSS was initially a citizenry requirement for all Ghanaians who are eighteen years and above.
It is currently limited to, and compulsory for all Ghanaians graduating from tertiary educational institutions who are not less than eighteen years old. 
The original aim of deploying freshly graduating youth under the National Service Scheme arrangement is to ensure that superior sectors of the national life are never lacking in the imperative human resources needed for development.
The National Service Scheme (NSS) Mission, Mandate And Core Value.
MISSION:
To mobilize and deploy Ghanaian citizens who are eighteen (18) years and above for national development.
MANDATE:
The Scheme as currently constituted provides newly qualified graduates with the opportunity to have practical exposure on the job, both in the public and private sectors, as part of their civic responsibility to the State.
It also provides user agencies with the opportunity to satisfy their manpower needs.
As well as affords communities that would otherwise have difficulty in accessing mainstream development initiatives and access to improved social services through community service.
CORE OBJECTIVES.
Develop skilled manpower through practical training.
Encourage the spirit of National service among all segments of Ghanaian society in the effort of nation-building through active participation.
Help provide essential services and amenities, particularly in towns and villages of the rural areas of Ghana.
Promote National Unity and strengthen the bonds of common citizenship among Ghanaians.
Undertake projects designed to combat hunger, illiteracy, disease and unemployment in Ghana.
NSS Contact Details.
Location:
46 Patrice Lumumba Road,
Airport Residential Area,
Accra.
Telephone Numbers:
055-440-4422
055-440-0078
055-440-0069
I hope this article answered your question.
Click here to know Colleges Affiliated To UG.
Check out BA Courses In Legon, BA In Education Courses and City Campus.
Click Here to know more about the UG Department of English.
Ever heard about the University of Ghana Credit Union? Click Here to read more.
Read more about the University of Ghana Sports Directorate.
Check out Public Universities In Ghana.
Get to know Private Universities In Ghana.
Read about the Garden City University College.
Click Here to know how to apply to Central University.
Know more about Africa's Finest Private University, Ashesi University.
Click Here to know more about Pentecost University.
Check out the Dominion University College.
How well do you know Takoradi Technical University? Find out Here.
Read more about Ghana's Premier Technical University, Accra Technical University.
Click Here to know more about Sunyani Technical University.
No knowledge is a waste right? Click here to know about Technical Universities In Ghana.
What do you know about Ho Technical University?
Check out Bolgatanga Technical University.
Kindly note that this information will constantly be updated so keep visiting this page to read more.
Do not hesitate to use the comment space below if you have any questions or concerns about the recruitment.
Kindly stay tuned and share this article with your friends.
Thanks for reading.