Transforming Teaching, Education & Learning (T-TEL), Community of Excellence Program & Jacob's Foundation
Transforming Teaching, Education & Learning (T-TEL), Community of Excellence Program & Jacob's Foundation
T-Tel is a Ghanaian not-for-profit organisation that provides high quality technical advice, project management, research and implementation support services, using local talent and expertise to enable Ghana's education system to reach greater heights.
Transforming Teaching, Education & Learning (T-TEL)
This was officially registered as a Ghanaian not-for-profit organisation on 7th July 2020.
T-TEL is a Ghanaian, not-for-profit organisation that provides high quality technical advice, project management, research and implementation support services, using local talent and expertise to enable Ghana's education system to reach greater heights
On 7th July 2020, T-TEL was established as a not-for-profit organisation following the successful completion of a six year (2014-2020) $34 million Government of Ghana programme funded by FCDO and implemented by Cambridge Education
This programme, also called T-TEL, was initially designed to strengthen pre-service teacher training.  It grew into a large scale comprehensive teacher education policy reform programme owned by the Ministry of Education and led by the Ghana Tertiary Education Commission (GTEC). The T-TEL programme successfully helped GTEC to introduce a Bachelor in Education (B.Ed.) degree in Initial Teacher Education in all 46 public Colleges of Education (CoEs) through affiliation with 5 public universities.  The T-TEL programme was seen by key stakeholders including FCDO and the Ministry of Education as a very successful programme which brought about significant changes in Ghana's teacher education system. The programme ended in December 2020.
It was this success that led to the decision to establish T-TEL as a Ghanaian not-for-profit organization. The T-TEL organization provides a much broader range of advice and support to the Government of Ghana in its mission to transform Ghana's education system.
The objects of T-TEL
are to:
Three Piloted Districts
Communities of Excellence is a Ministry of Education initiative which uses the Managing for Learning approach to improve learning. Communities of Excellence is led by Ghana Education Service (GES) facilitated by Transforming Teaching, Education and Learning (T-TEL) with funding from Jacobs Foundation in
Lambussie
Bosome Freho and
Akuapem South.
This collaboration will ensure adaptive learning ecosystems are developed within districts and communities to provide all children with the knowledge, skills, attitudes, tools and equitable opportunities to reach their full learning potential and thrive together. These learning ecosystems will help improve learning outcomes and holistic child development in schools whilst also constructing an education system that works together.
The programme, which initially operates between February 2022 and April 2023, is using 'Managing for Learning'. Managing for Learning is a new way of working which fuses participatory learning approaches and the delivery approach to provide a framework and set of tools which can be used by districts and schools to prioritize, plan, implement and monitor progress.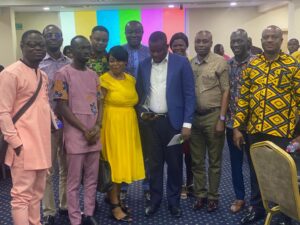 The intention is that the Managing for Learning methodology will enable and empower districts, schools and communities to co-create their own vision, reach consensus as to where they are now and the issues holding them back, analyse the root causes of issues and constraints and define their own plans in the form of Learning & Transformation Agendas (LTAs).
These LTAs, once implemented will help to ensure that communities and schools are working together to raise children with 21st Century Skills, social and emotional learning and character development in addition to literacy and numeracy. Communities which are able to achieve this goal will be awarded the title of "Community of Excellence".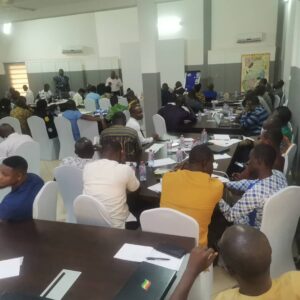 'Managing for Learning' processes once understood, can be implemented at any level of the system. This means that individual schools, operating within the context of the District Education Oversight Committees's (DEOC) Annual Plan, can introduce the monthly routines with their School Management Committees (SMCs) to problem-solve and plan at an institutional and community level.
The Ministry of Education, Ghana Education Service and T-TEL will ensure that Managing for Learning coheres with GALOP and other interventions. At district level the DEOC, District Education Office (DEO) and basic schools will all have responsibility for determining priorities and the activities which will be implemented to achieve these priorities. They will therefore be able to ensure that these plans take account of existing and proposed GALOP activities and resources. In this way Managing for Learning will assist agencies and schools to leverage their GALOP resources to increase positive impact.
This approach will enable the creation of Change Communities within Districts where learners, teachers, parents, community members, social actors and policymakers co-create in a more efficient, effective and contextually relevant approach informed by evidence and learning.
The Managing for Learning approach is being implemented in 3 Districts for an initial period of 15 months with the intention of being scaled up in subsequent years based on impact and evidence.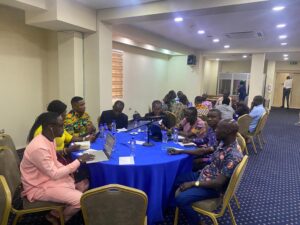 Principles
The following principles will guide this work:
It will be fully aligned with the Government of Ghana's educational priorities as set out in the Education Strategic Plan (ESP) 2018-2030, with activities and outputs featuring explicitly within the Education Sector Medium Term Development Plan (ESMTDP) for Basic Education (2022-2025).
The overall objective is an equitable and sustained improvement in learning outcomes and holistic child development (within the context of '21st Century Skills' as defined in the National Pre-Tertiary Curriculum Framework 2018) and measured through national learning assessments.
Taking an inclusive, respectful, self-critical and humble approach, recognising that improvements in learning will come about through a collaborative learning journey involving a wide range of diverse actors who together constitute a change community.
Ensuring that activities are evidence-based and focus on prioritising those interventions with strong evidence that they improve learning outcomes. Interventions that support schools and communities to adapt to variability in learning, encourage teaching at the right level, and establish 'Communities of Excellence' for literacy are particularly encouraged.
Ensuring that Gender Equality and Social Inclusion (GESI) is embedded across all activities and that there is a focus on ensuring that all children are safe and secure, recognising that mental and physical well-being is a critical component of holistic child development.
Focusing on creating and measuring sustainable education ecosystems within districts that are self-contained and fuel their own ambition to drive learning improvements over time beyond the lifetime of specific interventions. This requires recognising the importance of formal and informal incentives, capability strengthening, sanctions and power dynamics.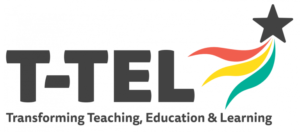 Conclusion
T-Tel is impacting learning outcomes positively by directly engaging stakeholders and supporting various initiatives targetted at eliminating the barriers of improved academic outcomes.