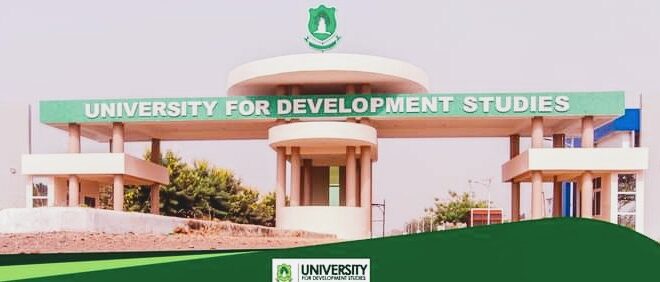 University of Development Studies (UDS) Admission Portal is opened for interested students desiring to enroll at the prestigious University.
To have a fair appreciation of of your chances at being admitted for a particular course, one must have a fair idea of previous Cut off Points to serve as a guide in the selection of courses for the 2022/2023 academic year.
We have compiled a guide of previous Cut-Off Points to help prospective applicants for the 2022/2023 academic year.
Note: These are Tentative Cut-Off Points and may vary depending on the level of competition for admission each year. When competition for admission is keener, the Cut-Off Points may vary depending on the number of students intake for a particular course
GENERAL ENTRY REQUIREMENTS
i.    WASSCE Holders (for Degree Programmes)
WASSCE holders seeking admission into Degree programmes must have at least C6 in all their three Core and three Elective Subjects.
WASSCE holders who have Grade D7 or E8 or F9 in any one of their three Core or three Elective subjects are advised not to apply for a degree programme.
Candidates should therefore possess, at least, credit scores/grades in the following:
•    Three Core Subjects (English Language, Mathematics (Core) and Integrated Science / Social Studies).
•    Any three Elective subjects in the relevant programmes.
•    Aggregate Score of the best six (6) subjects (three core and three electives) must not exceed 36. However, admissions will be on competitive basis, and various programmes offered in UDS have their cut-off points much lower than aggregate 36 for WASSCE.
•    Candidates should note that Social Studies is not an elective subject.
•    For candidates who read Arts and Business subjects at WASSCE, a grade in Social Studies may be used in place of the grade in Integrated Science in the calculation of their aggregates if the Social Studies grade is better than the grade in Integrated Science. This is however on condition that the candidate has at least a pass in Integrated Science.
•     For Science students, however, Social Studies (Core) does not replace Integrated Science (Core) in the calculation of candidates' aggregates.
ii.    WASSCE Holders (for Diploma Programmes)
Candidates who do not meet the requirements for Degree programmes in UDS are advised to apply for any one of the Diploma programmes (Diploma in  Development Education, Basic Education, Early Childhood, Care and Education, all of which are offered at the Tamale Campus; Diploma in Social Change Communication, Agriculture Technology, Family and Consumer Science, Biotechnology and Molecular Biology, Natural Resource Management are offered on Nyankpala Campus)
•    To be admitted into a Diploma programme, three credits passes in the area of specialization (elective subjects) and at least two passes ( D7 or better) in English Language and Mathematics in WASSCE is required. Any   candidate without a pass in English Language and Mathematics (core) need not apply for the Diploma. It is not likely that all candidates with the minimum requirements for Diploma programmes will be admitted. Preference will be given to candidates who have good grades/credit passes.
Candidates, who have met the requirements for Degree programmes (Credits in three electives and three core subjects), but have aggregates that are not good enough may be admitted into Diploma programmes
List Of all UDS Courses and their minimum admission requirements for 2021/22 below:
BA Development Education   19
BEd Agricultural Science   20
BEd Basic Education     21
BEd Early Childhood Care And Education   21
BEd Family And Consumer Science      19
BEd Social Science         16
BSc Agribusiness        18
BSc Agriculture Technology         17
BSc Aquaculture Technology And Fisheries Science      16
BSc Biotechnology And Molecular Biology         17
BSc Community Nutrition         19
BSc Ecotourism And Hospitality Management       16
BSc Environmental Management And Sustainability          18
BSc Family And Consumer Science             17
BSc Fisheries And Aquaculture Technology            20
BSc Food Science And Technology         15