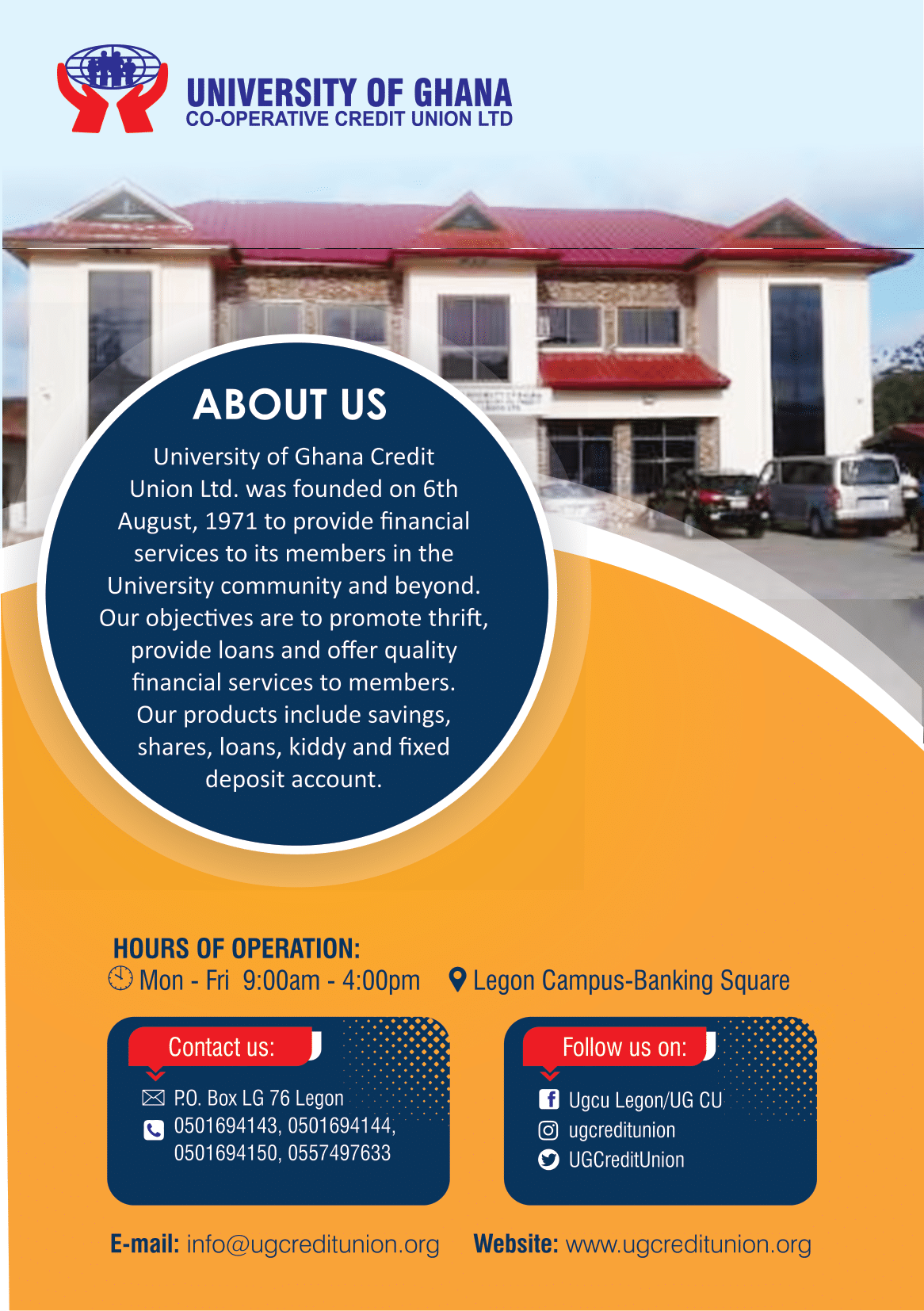 UG Credit Union Limited.
Wikipedia defines A credit union as a type of financial institution similar to a commercial bank, it is a member-owned nonprofit financial cooperative. Credit unions generally provide services to members similar to retail banks, including deposit accounts, provision of credit, and other financial services.
University of Ghana Cooperative Credit Union Limited was founded on 6 August, 1971 to provide financial services to its members in the University community.
It was affiliated to the parent organization, i.e. Credit Union Association (CUA) on 13th December, 1986 and registered on 6″ July, 1998.
UG Credit Union Limited Objectives.
University of Ghana Credit Union Ltd. is a financial Co- operative. The objectives of the Union are:
To promote thrift among its members by providing a means of savings.
To provide loans to its members for provident or productive purposes at a fairly low but competitive rate of interest.
To provide quality financial services to its members.
Vision.
A model of excellence for credit unions in Africa.
Mission.
To provide diverse financial and advisory services to all members with excellence.
Core Values.
Qualification of Membership.
Membership is open only to persons within the following common bond:
Employees of the University of Ghana.
Agreed or selected institutions around the University.
Retirees of the University on the Ghana University Superannuation Scheme (GUSS).
A good member must:
Repay all loans with interest.
Attend Annual General Meetings.
Criticize the Credit Union constructively.
Why Save With UG Credit Union Limited?
Opportunity to join a happy family.
Good interest on savings.
Prompt loan delivery.
Lowest interest rate on loans in the Country.
Highest dividend paid on shares in the country.
Strong growth potential.
Experienced and dedicated team – Staff, Management Board and other committees namely:
Loans Committee.
Supervisory Committee.
UG Credit Union Limited Services.
Their services include:
UG Credit Union Limited Contact Details.
Postal Address:
PO.Box LG 1167,
Legon Banking Square,
University of Ghana Campus.
Mobile:
+233 501 694 144
Email:
For further information and clarification, you can check their official website at http://www.ugcreditunion.org.
I hope this article answered your question.
Please check out GES SHS Placement.
Also check out the GES Promotion Portal.
Get to know about the GES Recruitment.
Do you want to know more about the Ghana Education Service? Find out Here.
Get to know more about NaSIA and NaCCA.
Know how to get Your Teachers' Registered Number Through The NTC Portal Here.
Also check out NTC Here.
Check out the NTA Portal Here.
Know how to apply for the NTC Licensure Exams.
How well do you know the University Of Education, Winneba? Read Here.
Know more about the Ministry Of Education.
Guess who your Minister of Education is? Get to know him Here.
Read on Sexual Education In Ghana.
Know more about GhanaPay.
Click here to know Colleges Affiliated To UG.
Check out BA Courses In Legon, BA In Education Courses and City Campus.
Click Here to know more about UG Dependent of English.
Kindly note that this information will constantly be updated so keep visiting this page to read more.
Do not hesitate to use the comment space below if you have any questions or concerns about the recruitment.
Kindly stay tuned and share this article with your friends.
Thanks for reading.