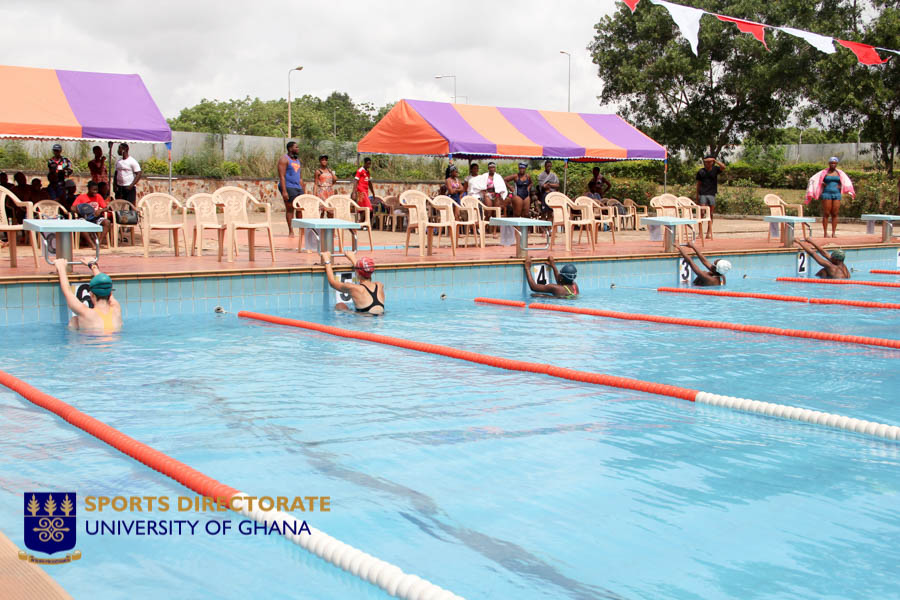 UG Swimming Pool.
The University of Ghana, the premier university and the largest university in Ghana was founded as the University College of the Gold Coast by Ordinance on August 11, 1948 for the purpose of providing and promoting university education, learning and research.
The University of Ghana is one of Ghana's leading Universities.
According to https://www.usnews.com, University of Ghana ranked 916th in Best Global Universities.
According to https://www.ug.edu.gh, The 2022 AD Scientific Index, which has more focus on the biophysical sciences, places the University of Ghana as first in Ghana, 15th out of the 2,049 universities in Africa, and at 1,704 out of 14,284 universities surveyed globally.
The University of Ghana is also known as the Most Beautiful University in Ghana.
The mission of the University of Ghana is "to develop world-class human resources and capabilities to meet national development needs and global challenges through quality teaching, learning, research and knowledge dissemination".
One way the University of Ghana aims to develop world-class Human Resources and capabilities is through sports.
The Sports Directorate has many sporting facilities but we will put more emphasis on the University of Ghana Swimming pool.
UG Swimming Pool.
The UG Swimming Pool has a volume of 2000 cubic meters with turnover rate 500m°/hour (complete turnover every four hours).
It is 50metres in length, 17.5metres in width and 1.2×5.5metres in depth from shallow to the end, with six lap swimming lanes.
The maximum bathing load is 200 people. There are four entry and exit steps at each side of the pool basin.
The Swimming and diving Pool with a small circular children's pool is located at the University of Ghana Sports Directorate adjacent the University of Ghana Sports Stadium.
The entire UG Swimming Pool has male and female changing rooms, first aid point, an assembly point and emergency exits.
There is a restaurant with a variety of affordable local and continental dishes and drinks to go with on the same premises.
Morning and evening swim lessons are also available for all ages at affordable prices.
There are monthly, quarterly, biannual and annual packages for individuals and families.
The swimming pool is surrounded by various gardens, available for recreational activities and reception.
To use any of our facilities you must submit a letter of request containing the date, time (duration) and type of programme.
Marshall describes the swimming pool as an "Olympic sized pool with well trained life guards."
The UG Swimming Pool does not operate on Mondays. It is reserved for maintenance. Hence, it is only functional from Tuesdays to Sundays.
UG Swimming Pool Contact Details.
The Sports Directorate,
University of Ghana,
P.O.Box LG 25,
Legon, Accra.
Tel: 0303961033.
Email: Sports@Ug.edu.gh.
The Swimming Pool is temporarily closed till further notice.
For further information and clarification, you can check their official website at www.ug.edu.gh..
I hope this article answered your question.
Please check out GES SHS Placement.
Also check out the GES Promotion Portal.
Get to know about the GES Recruitment.
Do you want to know more about the Ghana Education Service? Find out Here.
Get to know more about NaSIA and NaCCA.
Know how to get Your Teachers' Registered Number Through The NTC Portal Here.
Also check out NTC Here.
Check out the NTA Portal Here.
Know how to apply for the NTC Licensure Exams.
How well do you know the University Of Education, Winneba? Read Here.
Know more about the Ministry Of Education.
Guess who your Minister of Education is? Get to know him Here.
Read on Sexual Education In Ghana.
Know more about GhanaPay.
Click here to know Colleges Affiliated To UG.
Check out BA Courses In Legon, BA In Education Courses and City Campus.
Click Here to know more about UG Department of English.
Ever heard about the University of Ghana Credit Union? Click Here to read more.
Read more about the University of Ghana Sports Directorate.
Kindly note that this information will constantly be updated so keep visiting this page to read more.
Do not hesitate to use the comment space below if you have any questions or concerns about the recruitment.
Kindly stay tuned and share this article with your friends.
Thanks for reading.