Being a NSMQ Seeded School means that a school has been given a special status or privilege in the National Science and Maths Quiz (NSMQ) competition. Seeded schools are typically recognized as top-performing schools in the competition based on their past performance, achievements, and overall reputation. Here are some key points about 2023 NSMQ Seeded Schools.
2023 NSMQ Seeded Schools
Performance and Reputation:

Seeded schools have consistently excelled in previous editions of the NSMQ. They have demonstrated a high level of knowledge, competitiveness, and success in the competition. These schools have established themselves as strong contenders and have gained a reputation for their academic prowess in science, mathematics, and general knowledge.
CHECK OUT NSMQ 2023 Regional Qualifiers.
Benefits and Privileges:

Seeded schools receive certain advantages and privileges in the NSMQ. These can include preferential treatment in terms of scheduling, seating arrangements, or other logistical considerations. Seeded schools may also have additional recognition and visibility, as they are often considered favourites or formidable opponents by other participating schools.
Seeding Process:

The process of selecting and designating seeded schools may vary from year to year. It is typically determined by the organisers of the NSMQ based on the performance history and rankings of schools in previous competitions. Seeding may also take into account factors such as the number of championships won, consistent top placements, or other exceptional achievements in the NSMQ.
Competitiveness:

While being a seeded school can provide certain advantages, it also increases expectations and places greater pressure on the school to maintain its reputation. Seeded schools are often seen as targets by other participating schools, who aim to defeat them and make a mark in the competition.
There are about 27 schools that have been selected across the regions in Ghana as 2023 NSMQ Seeded Schools. Below is the list of schools: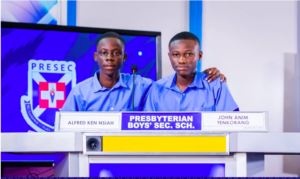 2023 NSMQ Seeded Schools


Abetifi Presbyterian Senior High School
Aburi Presbyterian Senior High School
Adventist Senior High School
Ghana Senior High School, Koforidua
Ghanata Senior High School
Keta Senior High Technical School
Kumasi Secondary Technical School
Osei Tutu Senior High School 
READ ALSO: More Than 85% Fail Teacher Licensure Exam.
Osei Kyeretwie Senior High School
Pope John Min. Sem. Senior High School
Presbyterian Secondary School, Legon
Swedru Senior High School 
St. Hubert Min. Sem. Senior High School 
St. James Sem. Senior High School
St. Francis Xavier Jr. Seminary
Tamale Senior High School
In conclusion, being a NSMQ Seeded School indicates that a school has a strong track record of success in the competition and is recognized as a top-performing institution. This status brings certain benefits and privileges, but also raises the level of competition and expectations for the school to perform exceptionally well.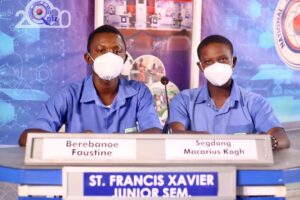 Which school do you think will win the 2023 NSMQ?
Kindly engage by commenting and sharing the link to friends if you got value.