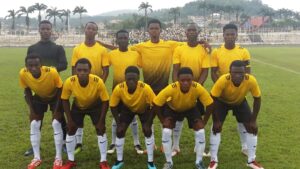 The 2023 Ashanti Regional Inter-Schools and Colleges boys soccer competition qualifiers has been postponed according to information from the Regional Federation for Schools and Colleges Sports.
Thirty two schools have secured qualification to compete at the Baba Yara Stadium for the coveted trophy after a grueling round of qualifiers across selected centers.
last year's competition ended inconclusively with the final game involving Opoku Ware School and T. I. Amass not played.
The fixtures for the Round of 32 are already out with some exciting fixtures.
Below are the round of 32 fixtures.
The dates for take off of the competition will be confirmed after all outstanding issues are cleared.
Round of 32 Fixtures
Bodomase SHS vs Adu Gyamfi SHS
T.I AMASS Phobia vs Dwamena Akenten SHS
Kumasi Anglican SHS vs Bodwesango SHS
Tweneboah Koduah SHS vs Ejuraman SHS
Aduman SHS vs Agona Sec.Tec
Obuasi Sec Tec vs Simms SHS
Antoa SHS vs Prempeh College
Nyinahin Catholic SHS vs Islamic SHS
Asanteman SHS vs Mpasatia Sec.Tec
Toase SHS vs Mankranso SHS
Komfo Anokye SHS vs KSTS/ Owerriman SHS
Osei Kyeretwie SHS vs Asare Bediako SHS
Effiduase SHS vs Sakafia SHS
Bosome SHS vs Kumasi Academy SHS
OLAG vs T.I Amass, Fomena
Opoku Ware SHS vs Church of Christ SHS
The new dates will be confirmed later on.