Appianyinasehene gives to Juaben schools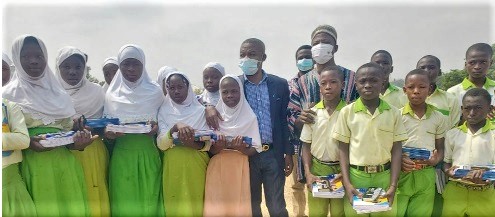 The Appianyinasehene of Juaben in the Ashanti Region, Nana Kwanin Kwanfo II, has distributed school supplies to junior high school students in the Juaben municipality.
The gesture, the sixth in many years, is part of efforts to support parents as well as ensure that the students do not have any excuse to skip school, so far as school supplies are concerned.
The items included exercise books, mathematical sets, pens, pencils and drawing boards for pre-technical drawing.
Beneficiary schools
The beneficiary schools were Nobewam LA, Nobewam Presby JHS, Bonfa JHS, Juaben Islamic JHS, Madam Smith JHS, Juaben MA JHS and the Juaben Methodist JHS.
The rest are Nkyiripoaso, Apemso, Ofoase, Domakwai, Juaben SDA, Global JHS, Juaben and Anglican JHS all in the Juaben municipality.
Visiting some schools in the municipality to make the presentation, Nana Kwanfo II said the gesture was to support a similar one undertaken by the Otumfuo's Education Fund, to help improve the quality of education in the communities and the region in general.
"I have decided to sustain this gesture because there is no substitute for education.
"My subjects and I are bent on investing in the children because in them lies our future. With the way technology is driving the world, any society that does not embrace and support the education of their future leaders' risks being left behind.
Way
"The King of Ashanti, Otumfuo Osei Tutu II, has shown the way with the setting up of the Otumfuo Education Fund and that is what I'm trying to emulate it in my community," the Juaben Appianyinasehene intimated.
He also encouraged the students to read more to be able to confidently express themselves better in English, stressing that "certainly, when you get the basics right, it becomes much easier as you go through the second cycle and tertiary education," Nana Kwanfo II said.
The Municipal Director of Education, Mr Charles Adu Kumi, was grateful for the support and commended the Appianyinasehene for his special interest in helping to improve the quality of education at Juaben.
Source: Graphic.com