David Adjaye Award Winning Ghanaian Architect
Award Winning Ghanaian British Architect, David Adjaye was born on 22nd September, 1966 in Dar es Salaam in Tanzania.
As a child, Sir David travelled all over the world to places such as Kampala, Nairobi, Jeddah, Accra, Beirut and Cairo as his father was a diplomat.
He had his tertiary education from South Bank University and graduate education in Royal College of Art in London in 1993.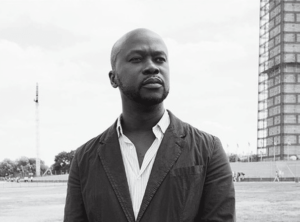 His works include the Museum of Contemporary Art Denver which was completed in 2007, the Smithsonian National Museum of African American History and Culture.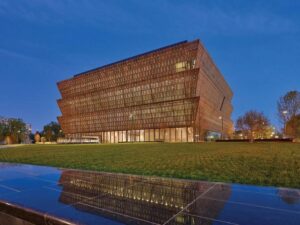 David Adjaye Award Winning Ghanaian Architect
In his early adulthood, one of the many prolific projects that evolved out of David's travels is the "Adjaye Africa Architecture: A Photographic Survey of Metropolitan Architecture".
The project took place over a ten year period documenting fifty-four major African cities and showcasing a concise urban history, fact file, maps and satellite imagery that come together in a rigorous analysis and reconceptualization of what African architecture is and can truly be.
David Adjaye Award Winning Ghanaian Architect
According to http://adjaye.com, "A formative moment in Adjaye's childhood was when he realized the inequities that his brother, Emmanuel – who was partially paralyzed faced when visiting his specialized school.
Adjaye noted how inefficient, run-down and degrading the actual facility was.
During his university education at South Bank, he began to think about designing a facility that would provide better care for the handicapped, a moment he describes as changing everything.
He came to the understanding that architecture should serve people and as a prevalent force within all our lives, it too should take to the realm of egalitarianism(a social philosophy advocating the removal of inequalities among people)."
In 2017, Adjaye was knighted by Queen Elizabeth Ill and was recognized as one of the hundred (100) most influential people of the year by TIME Magazine.
He is also a recipient of the 2021 RIBA Royal Gold Medal, which is considered one of the highest honors in British architecture for significant contributions to the field internationally.
In 2022, Adjaye was appointed to the Order of Merit, selected by Her Majesty the Queen, in recognition of distinguished service in his field.
Read why Ablakwa Wants Rev. Kusi-Boateng To Resign From The National Cathedral Board Members.
He is also the recipient of the World Economic Forum's 27th Annual Crystal Award, which recognizes his "leadership in serving communities,cities and the environment."
For Sir David Adjaye, architecture is "a social act" – it's about constructing buildings that acknowledge and understand their histories, whilst creating something entirely new, in order to serve communities into their futures.
FAQs
What is David Adjaye famous for?
David Adjaye, in full Sir David Adjaye, (born September 22, 1966, Dares Salaam, Tanzania), British-based architect of Ghanaian descent who won international acclaim for his diverse designs and innovative use of materials and light.
What kind of architect is David Adiaye?
Sir David Adjaye OM OBE is an award-winning Ghanaian-British architect known to infuse his artistic sensibilities and ethos for community-driven projects. His ingenious use of materials, bespoke designs and visionary sensibilities have set him apart as one of the leading architects of his generation.
Who owns Adjaye Associates?
Since establishing Adjaye Associates in 2000, David Adjaye has crafted a global team that is multicultural and stimulated by the broadest possible cultural discourse.
How do you pronounce Sir David Adjaye?
David Adjaye is fast becoming a household name among architects, notwithstanding the widespread confusion over how to pronounce his surname (Adj-eye, for the record). There is, however, one characteristic of his rapid ascension to the top of the profession that is unmistakable. Adjaye is a black man.
Is David Adjaye married?
In 2014, Adjaye married Ashley Shaw-Scott.
When was David Adjaye born?
Born in Tanzania on September 22, 1966, and having lived across various countries before finally settling in London, Adjaye's childhood exposed him to diverse cultures and the architecture of varied regions.
What materials does David Adjaye use?
Adjaye and his team didn't settle for on-the-market options when selecting glass for the museum's court. Instead, they teamed with fourth-generation family-run glassmakers, Bendheim to develop a custom copper-infused material that would play up the light and movement emanating from the court's cascading fountain.
What is the name of the architect who presents the documentary building Africa the architecture of a continent?
The acclaimed architect David Adjaye travels through Africa to unravel the secrets of the continent's surprising architectural history.
How did David Adjaye become an architect?
He received his degree in architecture from South Bank University and master's degree from Royal College of Art in London in 1993. In 2000, he set up his own practice, Adjaye Associates in London, with now offices in New York. Ghana and Berlin as well.
Who did David Adjaye work for?
His projects from the 2020s included the Winter Park Library and Events Center (2021), Florida. In addition to architecture, Adjaye was also involved in furniture design, working for such brands as Knoll and Moroso.
Why was Sir David Adjaye knighted?
Adjaye was knighted in the 2017 New Year Honours for services to architecture. He is the recipient of the 2021 Royal Gold Medal, making him the first African recipient and one of the youngest recipients. He was made a member of the Order of Merit in 2022.
This article was written to enlighten you on Ghana's best architect; Sir David Adjaye.
If you got value, share this article with your friends on social media platforms to show your support.
Do not hesitate to use the comment space below if you have any questions, concerns or thoughts.