Five persons have reportedly died on the spot after a sprinter bus with registration number GC 6521-21 collided with a stationary truck at Oframase, a suburb of Nkwakwa in the Eastern Region.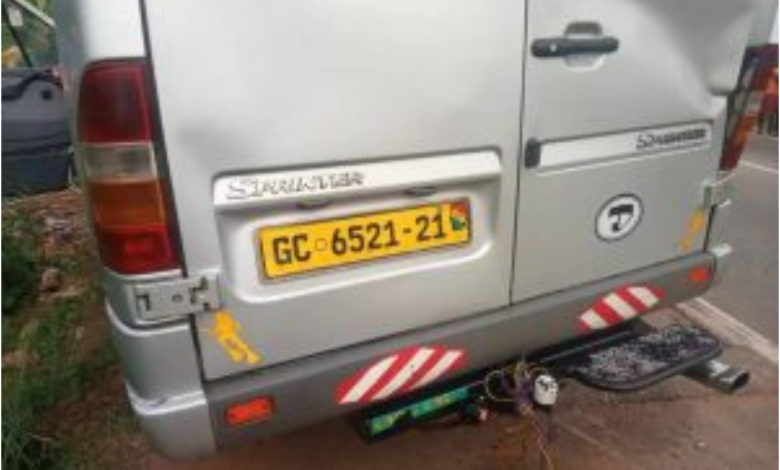 Speaking in an interview with Agoo News, the Nkwakwa MTTD Commander DSP Foster Asante said a preliminary investigation has stated that the driver of the sprinter Shadrack Boadu and the other drivers were racing each other on the road for passengers.
According to the commander, they were informed about the accident which occurred at Oframase so they rushed there and called the fire service and National Ambulance to assist them.
When we got there, we realized that there was a stationary Burkina Faso bond track off the road with an advanced warning triangle to signal drivers that the truck has developed a fault. The sprinter bus drove towards it and rammed into the back of the stationary truck off the road which caused the accident.
"On the scene, we realized there were 11 passengers on board including the driver so we rushed them to the Holy Family Hospital while one woman was sent to Kenop Caere hospital but upon arrival, the doctor on duty pronounced 5 dead. The bodies are currently in the morgue for autopsy and the police are now trying o reach the family members of the victims. The remaining two who experienced a series of injuries are receiving treatment: others have been transferred to the Koforidua Teaching hospital", the police commander said.
According to the police, an eyewitness Ebenezer Kojo Nyador disclosed that "the drivers were coming in a subsection, that is two or three coming together and you know these buses they like to take passengers along the road. So it looked as if they were chasing each other with the hope the winner or the leading bus will pick passengers so the driver didn't pay attention and rove into that stationary truck".
Source: GhGossip