Fomena T.I Ahmadiyya SHS student wins Safe School Logo Competition
Ofori Enoch Jibril from Fomena T.I Ahmadiyya SHS was announced winner of the Safe School Logo Compettion during the launch of the Safe School Logo and annual awards ceremony held on Thursday 20th April, 2023 in Accra.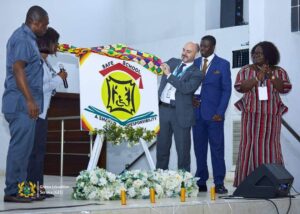 The brief ceremony which was under the theme, "harnessing our collective effort to promote a safe, protective, and inclusive school environment", was attended by various development partners, staff from GES, teachers and students across the country.
Through the annual awards ceremony, GES will recognise and reward schools and individuals demonstrating high commitment to child protection activities in and around schools
GES collaboratd with UNICEF, T-TEL, GACA, ActionAid and Adwensa Publications towards this noble cause.
Congratulations to Fomena T. I. Amass.
GES has demonstrated commitment towards making schools free from of all forms of abuse, harassment, violence and bullying.
Fomena Amass competed with a host of other schools and came up tops impressing the judges with their design and concept.