GIMPA honours 4 personalities: With honorary doctorate degrees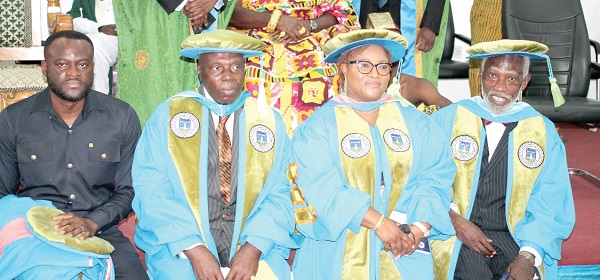 The Ghana Institute of Management and Public Administration (GIMPA) has conferred honorary doctorate degrees on four personalities for their contributions to national development.
They are a former Rector of the institute, Prof. Stephen Adei; the Chief Executive Officer (CEO) of FC Beauty Group Limited, Mrs Grace Amey-Obeng; a diplomat, Dr Barfour Adjei-Barwuah, and the CEO of Ernest Chemists Limited, Ernest Bediako Sampong.
Special congregation
They were presented with the honours at a Special Congregation at the Greenhill Campus of GIMPA in Accra last Wednesday.
Prof. Adei was presented with Doctor of Letters (honoris causa) while Mrs Amey-Obeng had Doctor of Humane Letters (honoris causa) and Dr Adjei-Barwuah, Doctor of Laws (honoris causa).
Mr Sampong, whose award was received on his behalf by his son, Yaw Bediako Sampong, was also presented with Doctor of Humane Letters (honoris causa).
A citation accompanying the award to Prof. Emeritus Adei said, among other things, that his leadership impacted and produced great societal benefits.
It said between 2000 and 2008, he transformed GIMPA from an ordinary institution to a world-class institution and the university of choice in Ghana.
"Your vision and steadfastness guided these efforts. You have also been a leading and forceful advocate of access, excellence and improvement in education.
"You have served our government in numerous positions of responsibilities, exemplified by such portfolios as the Chairman of the National Development Planning Commission, the Chairman of Ghana Revenue Authority Board and the Judicial Council Board, among others," it said.
The citation of Mrs Amey-Obeng said "Yours is a life of business achievements, philanthropic accomplishment, and commitment to the improvement of the human condition, especially the girl child"
In addition, it said her vision and generosity led to the establishment of Grace Amey-Obeng Foundation International to combat the scourge of sex for profit among young girls and to empower them with employable skills to help develop alternative sources of livelihood.
"By your landmark strides, you have been a great source of admiration to GIMPA for your exemplary service, inspiration and wise counsel, insight and abiding commitment to the total emancipation of the girl child in Ghana and beyond," it said.
Others
Regarding Dr Adjei-Barwuah, the citation said as an accomplished diplomat and a one-time ambassador to one of the world's most powerful nations, "your diplomatic acumen is matched in full measure by your civic sensibility".
"Your sense of social responsibility of the Ghanaian diplomatic structure is exemplary.
"You are a compassionate doer who has never stopped learning and making use of what you learnt for the benefit of your public service and your nation," it said.
The citation for Mr Sampong said he had single-handedly established and developed sustainable qualities that transformed a sole proprietorship to an enviable limited liability company.
"Your leadership laid the groundwork for one of the fastest-growing three-dimensional (manufacturing, trading and exporting) pharmaceutical companies in Ghana with a brand promise of providing quality and affordable medicines to the people of Ghana and beyond.
"You have played a key role in the formation of international equity alliances, another hallmark of Ernest Chemists' success stories, among others," the citation emphasised.
Congratulations
Speaking at the ceremony, the Paramount Chief of the Akwamu Traditional Area, Odeneho Kwafo Akoto, who was the special guest of honour, congratulated the institute on honouring the personalities.
"Sometimes, it seems to me like we do not acknowledge and celebrate our own enough. I know it does happen from time to time, but I would be filled with joy to see it happen more often," he said.
He said when an academic institute, known for its research, decided to select sons and daughters for special recognition "then we know that something special is happening".
Gratitude
On behalf of the awardees, Mrs Amey-Obeng expressed their profound gratitude to GIMPA for the honour done them, adding that "we do not know exactly what you found in us to be more deserving of these awards than others".
She said there was more to do to make Ghana a better place to live in and expressed the hope that the awards would energise them to double their efforts even if in advisory capacities.