Government to operationalise 4 E-blocks this year – Yaw Adutwum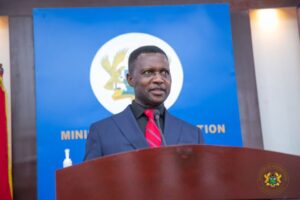 Education Minister, Dr. Yaw Osei Adutwum has revealed that government will operationalise four E-block schools by the end of this year.
Speaking at a press conference on Sunday, the Minister debunked claims that the government has abandoned the E-blocks project which began under the erstwhile Mahama administration.
According to him, the government has been seeing to it that the schools are operationalised every year.
"Today I am announcing to the good people of Ghana that if one government invest, another government will come and continue because after all, it is the money of the people of Ghana. I have been on record saying that the E-blocks where they were located in urban areas was the best investment any government could make," he said.
He noted that already some schools under the E-block had already been completed and operationalised.
In October last year, the Head of Communications at the Education Ministry, Kwasi Kwarteng, said that government is hopeful of operationalising the E-block School building at Aflao.
"The building is completed. What is left is the refurbishment, chairs and all that. We are not sleeping. We are very hopeful that the Aflao one and others that are yet to be completed, by the next academic year, we should see it in the Computerised School Selection and Placement System so that students will access it. That is somewhere in February [2022]," he explained.
He added that 26 of the contracts under the project have been terminated.
"Twenty-six of them have their contracts terminated. If you look at them, some of them are at sub-structural levels. You award it to the contractor, and you don't provide funding and the contractor can come to the site once and does not appear on site months later.
"The contracts have been terminated outrightly. For some of them, after two or three years, you see that the contract is still at 1% completion stage," he said.
The erstwhile Mahama administration in 2012 announced his plans to construct some 200 Community Day Senior High Schools in the country to enhance access to Secondary Education.
Later, contracts were awarded for some 124 schools to be constructed across the country. These projects were known as the E-blocks.
Source: Myjoyoline