Teaching Opportunities in Canada, Salary and How to Immigrate to Canada
There are many Teaching jobs available in Canada for immigrants. However, the diverse nature of Canada present different opportunities in various cities and territories. A clear understanding of these diversities will help immigrant teachers understand how to go about it.
Provincial and territorial governments operate their own school systems, and are responsible for setting out the regulations for teaching jobs in Canada. The rules are broadly similar across the country, but with some local differences.
Federal skilled workers (FSW) are of greater value to a country and are therefore of a higher priority, especially in recession-proof industries. See the Canadian IELTS / Entry Program for more. For example, doctors, dentists, and teachers are professions that will always be necessary. That's good news if you are a teacher wanting to immigrate to Canada.
Provincial and territorial governments operate their own school systems and are responsible for setting out the regulations for teaching jobs in Canada. The rules are broadly similar across the country, but with some local differences.
Selection Factors for FSW and Approval to Teach in Canada (NOC 4031/41220 and 4032/41221)
Highest level of education completed; higher than high school diploma preferred
Work experience shows at least one full year of employment that falls into one of the following occupational categories: managerial, professional, or technical/skilled
Fluent in French and/or English (both spoken in Canada)
Current age
Overall adaptability (usually tested through an assessment quiz)
The current state of employment (or offer)
A bachelor's degree in Education and a provincial certificate is required for teaching jobs in Canada. Obtaining certification can be a slow process, so it's best to start before your arrival in Canada if possible.
Other factors are considered to assess eligibility for teaching jobs in Canada. For instance, the applicant may need:
Recent teaching experience.
Familiarity with the culture and curriculum of the Canadian education system
Fitness to teach, including character reference and successful criminal record checks.
Supervised student teaching may also be required. For secondary teaching jobs in Canada, it is recommended to complete a major in one teachable subject, and a minor in another teachable subject. These include languages, sciences, social studies, and business.
Requirements for Foreign Teachers
You will need to acquire some important documentation regarding your qualifications to be eligible to work in Canada as a teacher.
Qualified Degree, Diploma, or Certificate: If you hold a foreign credential, you must first determine whether it is recognized in Canada. If your degree, diploma, or certificate is recognized, you may need an Educational Credential Assessment (ECA), which certifies that it is legitimate and meets Canadian criteria.
Provincial Teaching Certificate: You'll also need a provincial teaching certificate and a license, both of which you'll get by joining a teacher's association in your selected province or territory.
Issue date of a police background clearance certificate (Enhanced Disclosure Scotland, DBS) is less than six months.
Canada's immigration service issues work visas and, if necessary, residence permits.
For the province of Quebec, fluency in English or French is required.
2 positive references from current or previous employment in the field of education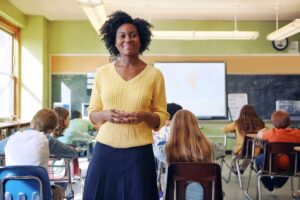 Annual Salary of a Teacher In Canada?
Given the sheer geographical size of Canada as a country and the political power that each province holds, it is somewhat misleading to try and pick an average salary for teaching jobs across Canada. That said, recent research indicates that of major Canadian cities, Winnipeg is the city with the highest teacher's salary at approximately $102,000 per year (usually for teaching jobs with around 10 years' experience), while Montreal is the lowest with qualified candidates with around 10 years' experience receiving $82,500 per year to teach in this part of Canada in 2019. Entry-level positions offer more modest compensation.
Are Teachers Considered Skilled Workers?
Federal Skilled Worker is a person with suitable education, work experience, age, and language abilities under one of Canada's official languages and who are selected under the Express Entry Immigration system to apply for permanent residence. Professional Teachers are classified as Skilled Workers in Canada.
Express Entry for Teachers
A great option for those seeking immigration to Canada as a teacher should look into applying for Express Entry. This is one of the most common ways to move to Canada as a teacher which is under the Skilled Worker Stream, which is a federal program managed by Express Entry.
Proof of The Cost of Living
Applicants should be able to prove that they have enough monies to sustain themselves before migration to Canada. Canada ensures that individuals permitted to enter the country have enough to sustain themselves without being a burden to the state.
What Can Get Your Application Dismissed
These scenarios will get your application outrightly dismissed if you are applying for a teaching job in Canada.
Possession of a human/international rights violation
A criminal history
DUI convictions, whether because of alcohol or drugs, will most likely get you turned down
Ties or past links to organized crime
Showing certain, especially contagious, health conditions
Lack of proof of, or not enough financial security
Discrepancies on your applications
Anyone not complying with Canada's Immigration and Refugee Protection Act, or IRPA
Anyone found to be in relation to an inadmissible person.
Check Out Some Vacancies
https://ca.indeed.com/Teacher-jobs?vjk=78db919f67cc1fff
https://teachforcanada.ca/en/teachers/apply-now/
Conclusion
It is possible for Migrant Teachers to work in Canada if the individual meets the necessary qualifications.
We hope this article was useful to you.