Top 10 Financial Aid Programmes For International Tertiary Students In Germany
Scholarship Opportunities In Germany
Top 10 Financial Aid Programmes For International Tertiary Students In Germany
Germany is a popular destination for international students seeking high-quality education. However, the cost of living and studying in Germany can be a challenge for many. Fortunately, there are various financial aid programmes available specifically designed to support international tertiary students in their academic pursuits. In this post, you will discover the top 10 financial aid programmes for international tertiary students in Germany. Explore scholarships, grants, and other assistance programmes that can help international students pursue their higher education dreams in Germany.
Top 10 Financial Aid Programmes For International Tertiary Students In Germany

DAAD Scholarships:

The German Academic Exchange Service (DAAD) offers a wide range of scholarships for international students. These scholarships are available for undergraduate, postgraduate, and doctoral studies in various fields and cover tuition fees, living expenses, and travel costs.
Deutschlandstipendium

: The Deutschlandstipendium is a merit-based scholarship programme that provides financial support to both German and international students. It offers monthly stipends of 300 euros, half of which is provided by the federal government and the other half by private sponsors.
Erasmus+ Scholarships:

Erasmus+ is a European Union programme that offers scholarships for international students studying in Germany. It provides opportunities for mobility, including study exchanges, internships, and joint master's degree programmes.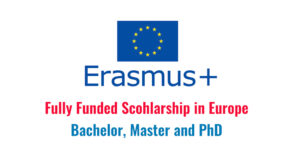 Heinrich Böll Foundation Scholarships:

The Heinrich Böll Foundation offers scholarships to international students pursuing undergraduate and postgraduate studies in Germany. These scholarships support students who demonstrate a strong commitment to social and environmental issues.
Konrad-Adenauer-Stiftung Scholarships:

The Konrad-Adenauer-Stiftung provides scholarships to international students who demonstrate exceptional academic and leadership potential. These scholarships support various disciplines and include financial assistance, mentoring, and networking opportunities.
CHECK OUT Top 10 Financial Aid Programmes For International Tertiary Students In The USA. 
Friedrich Ebert Foundation Scholarships:

The Friedrich Ebert Foundation offers scholarships to talented international students who are committed to social justice and political engagement. These scholarships support both undergraduate and postgraduate studies and include financial aid and support for internships.
Studienstiftung des deutschen Volkes:

The Studienstiftung des deutschen Volkes is one of Germany's oldest and most prestigious scholarship foundations. It offers scholarships to highly talented international students based on academic merit and personal qualifications.
Rosa Luxemburg Foundation Scholarships:

The Rosa Luxemburg Foundation provides scholarships to international students pursuing undergraduate and postgraduate studies in social sciences, humanities, and cultural studies. These scholarships support critical and socially engaged research and study projects.
DLR-DAAD Research Fellowships:

The DLR-DAAD Research Fellowships are offered to international doctoral students and young researchers in the fields of aeronautics, space, energy, and transportation. These fellowships provide financial support for research projects in collaboration with the German Aerospace Center (DLR).
Foundations and Organizations in Germany:

Various foundations and organisations in Germany offer scholarships and grants specifically for international students. Examples include the

Robert Bosch Foundation Fellowship Programme

, the

Einstein International Postdoctoral Fellowship

, and the

Kurt Hansen Science Scholarships.
Germany provides numerous financial aid opportunities for international tertiary students, making it more affordable to pursue higher education in the country. From scholarships offered by the DAAD and prestigious foundations to programs like the Deutschlandstipendium and Erasmus+, international students have a range of options to choose from. By exploring these top 10 financial aid programmes, aspiring international students can find the necessary support to fulfil their educational ambitions in Germany. 
Remember to thoroughly research each programme's requirements, application deadlines, and eligibility criteria to increase your chances of receiving financial aid and make the most of your academic journey in Germany.