UESD administrators inaugurate chapter body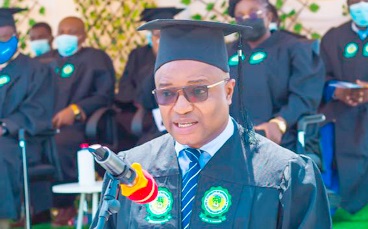 The University of Environment and Sustainable Development (UESD) has inaugurated its chapter of the Ghana Association of University Administrators (GAUA) at the university's Somanya campus, with a call on the members to act professionally and to employ dialogue in the university's administrative management.
The chapter is headed by a six-member Executive Committee consisting of Dr Hammond Oppong Kwarteng (President), Baffour Osei Akoto (Vice-President), Cynthia Oduro Ameyaa (Secretary), Araba Mbrowa (Assistant Secretary), Barbara Mary Yakubu (Editor) and Isaac Fenyi (Trustee).
The National President of GAUA, Kwabena Antwi-Konadu, said the association had a critical role as a non-teaching senior staff of public universities in the country.
He said as a result of that the members did not only see themselves as senior members but also considered themselves as managers of the universities.
"Because of that, we believe in dialoguing when there is an issue, when it comes to labour issues. That is why people do not see us go into the street to strike and to create situations that will not be good for the running of the university," he stressed.
The UESD Chapter Chairman, Dr Kwarteng, said: "I wish to plead with your leadership to do everything possible to ensure the guarantee of the rights of our members without compromising the good relationship that exists between us and management".
He encouraged the members of the local chapter to show honesty, humility, hard work, human relations and humanity, adding that "these five values I believe are useful in developing our leadership potentials to serve society better".
The Registrar of UESD, Mrs Mary Abena Agyepong, admonished the members of the university community to ensure that they exhibited emotional maturity to avoid mistakes in the line of their duties in order to promote effective teaching and learning, and to also promote good administrative work.
source: graphic.com.gh