What You Need To Know About UG Traditional Halls
Founded in 1948 as 'University College of the Gold Coast' – an affiliated college of the University of London – the University of Ghana is now the oldest and largest of Ghana's public universities.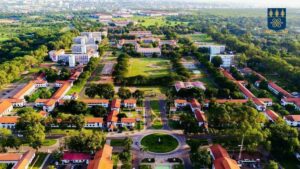 Ghana's Premier University, The University of Ghana is one of the topmost universities in Ghana and beyond.
Know more about University of Ghana Here
I know most of you have heard of UG  traditional halls and have probably been wondering what exactly they are.
Follow me as I enlighten you on the traditional halls in the University of Ghana.
What You Need To Know About UG Traditional Halls
The prestigious tertiary institution has fourteen (14) traditional halls and two executive hostels for accommodating students especially first year students.
Below is a brief description of each of UG's  traditional halls.
AFRICAN UNION HALL:
Established by SSNIT and known as PENTAGON. The hall is noted for the wealth of its residents. It is open to both foreign and local students.
AKUAFO HALL:
This hall is known as Hall of Excellence because they thrive for excellence in all they do.
They are noted for their rich cultures and tradition. Members of this hall are known as THE FARMERS.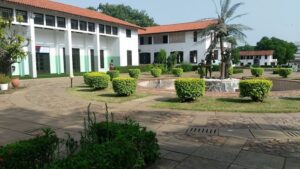 ALEXANDER KWANPONG HALL:
Named after the first black Vice-Chancellor of the University of Ghana, Alexander Kwanpong hall is noted for equipping the University's finest debaters pacesetters in building a Research common room and library to foster effective learning on campus.
BANI HALL:
It was formerly a private hostel which was made a hall after the tenancy agreement with the university expired.
Located at the Northern side of the campus, it is a unisex hall.They are well-known for their fashion night during their hall week celebration.
COMMONWEALTH HALL:
Popularly known by the acronym VANDALS: which means VIVACIOUS, AFFABLE, NEIGHBORLY, DEVOTED, ALTRIUSTIC and LOYAL.
It is the only male dominated hall on campus.
They are known for their strong leadership qualities and their unwavering commitment to their customs and traditions.
Despite being affable and neighborly, don't be seen at the VANDAL surrounding in red as a female.
You will be utterly disgraced.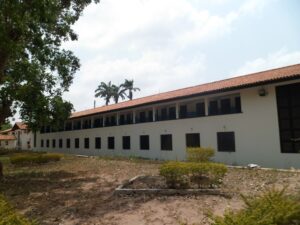 ELIZABETH FRANCES SEY HALL:
This hall came about as a result of the University's decision to reduce student accommodation problems.It was launched in January 2012.
The hall has strived to be the best in all things. It was named after the first female graduate of the university, Elizabeth Baaba Frances Sey.
EVANDY HALL:
This was a private hostel but was made a hall after the tenency agreement expired.
HILLA LIMANN HALL:
This hall was named after Dr. Hilla Limann, one of Ghana's president before democracy began in Ghana.
The hall is noted for its student activism and unearthing talents in the fields of sport, arts and music.
What You Need To Know About UG Traditional Halls
INTERNATIONAL STUDENT HALL:
It is situated on the road to the Okponglo entrance and directly opposite the Jubilee hall.
This hall was established to build and strengthen the bond among International students.
JAMES TOPP NELSON YANKA HALL:
Popularly known as TF hostels. It is located near the Madina-Legon Stretch of road.
JEAN NELSON AKA HALL:
Launched in 2012, the hall is known for their basketball team.
They are popularly known as ROYALS.
JUBILEE HALL:
Located at the Southern part of the main campus, directly opposite the University Mosque, it was established in 1998 to honour the Golden Jubilee celebration of the University of Ghana.
LEGON HALL:
This hall has produced great personalities in Ghana.
It is the maiden hall of the university and is situated close to the Balme Library(Biggest Library in West Africa) at the centre of the school.
What You Need To Know About UG Traditional Halls
MENSAH SARBAH HALL:
This serial award winning hall was named after Dr. Mensah Sarbah.It is affiliated with University(Katanga) Hall of KNUST and Casford of UCC. Residents of this hall are known as THE VIKINGS.
Check Your 2022/2023 UG Admission List Here.
VOLTA HALL:
This is the only all female hall on campus. They are known for their discipline and meticulousnes.
FAQs
How many halls are in Legon?
The hostels on campus are also referred to as halls. There are 14 halls of residence and also two hostels available to all students in Legon.
How do I get a hall in University of Ghana?
The procedure is as follows:
1. Click on "Residence Registration" under the Student Enabler (on the left side of the screen)
2. Click on "Submit Residence Registration",
3. Then click on the year (in blue).
4. There will be a display confirming the Hall and Room number.
5. Click on "I Accept" to confirm
What is the difference between Legon Main campus and City Campus?
The main campus houses all foreign students and Ghanaians admitted into programmes on the main campus. The Accra City Campus is located within the Central Business District of Accra.
Can you graduate with F in Legon?
Can I graduate with a grade 'F' in an elective course under the College of Humanities? Yes. This is however not applicable to all departments in the College of Humanities. Students offering Economics cannot graduate with a grade 'F' in any of the courses.
What You Need To Know About UG Traditional Halls
What is the biggest hall in KNUST?
Independence Hall is the premier and maiden hall in KNUST and serves as a permanent hall of residence for both male and female students. Spartans are what the proud members of the hall are popularly known as. The hall consists of 198 rooms in the main hall and 96 rooms in 8 storey annex.
Are university halls free?
Some accommodation is self-catered, meaning you're in charge of feeding yourself. Univerity accommodation often requires termly payments with bills included but check this before you sign a contract. You'll find that costs vary depending on whether you choose a standard, en-suite or luxury studio room.
How do you book a hall in Legon?
Legon runs an In-In-In-In accommodation system for their halls, thus, students can book to stay in the respective halls throughout their entire years of studying there but it is on a first-come, first-served basis, meaning you have to be very quick during the application process for hostel accommodation at University.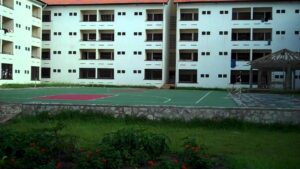 This article was written to enlighten you on UG Traditional Halls.
If you got value, share this article with your friends on social media platforms to show your support.
Do not hesitate to use the comment space below if you have any questions, concerns or thoughts.