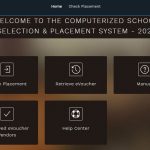 The 2021/2022 School placement is just around the corner, however, some students will not be placed in any of their six choices and would also not get the chance of doing a self-placement.
According to information available to Ghanaeducation.org, the Public Relations Officer (PRO) for the Ministry of Education (MoE), Kwasi Kwarteng has revealed that there is no clearly stated and approved cut off point for these BECE candidates placement in any school however, candidates who score aggregate 9 in either English Language and or Mathematics will not be placed.
This means a student who obtains grade 8 or better in any of the two subjects stands a chance of enjoying Free SHS in 2022. It also implies that if a student, for instance, obtains grade 2 in all subjects but 9 in English or Mathematics, he or she will not get the chance of being placed.
The Computerized School Selection and Placement System policy guideline is that if you get grade 9 in English Language or Mathematics which are required to qualify you for placement, you will not get school.
See also 2022 School Placement Date: We know the date now
He disclosed during a UTV granted interview that the 2021 computer school placement process was already at its final stage and that placements should be expected from March 14 to 21, 2022.
The 2021/2022 School Placements once released will be hosted on the CSSPS website [https://cssps.gov.gh] and will be accessible to the public.
The GES has promised the public that the usual downtime experienced on the site in the past during the school checking process will not be present since the outfit has dealt with it.
Frequently Asked Questions – FAQs
Which group of students will not be placed during the 2021/2022 School placement?
All public and private BECE graduates who obtained grade 9 in Mathematics or English Language will not be placed in any secondary school.
FAQs: What can students who failed in Mathematics and English Language Do?
For candidates who obtain Grade 9 in Mathematics and English, the chances of enjoying Free SHS is limited for this year however, they can do one of the following.
a. Resit the failed papers as Private BECE candidates, pass the examination, and apply for placement next year.
b. Gain admission into SHS however in a private Senior High School. Such candidates will pay full fees since Free SHS has not been extended to private SHS.
c. Learn a trade as an apprentice and completed it just when your colleagues are about to complete SHS.
After all, all hope is not lost. Stay focused, failing Mathematics or English is not the end of your world.
Source: Ghanaeducation.org