2023 Volta And Oti Regional NSMQ Qualifiers
The National Science and Maths Quiz (NSMQ) is an annual academic competition held in Ghana. It is one of the most prestigious and highly anticipated events in the country's educational calendar. The NSMQ aims to promote the study of science and mathematics among senior high school students and encourage intellectual competition.
The NSMQ features teams of three students from various senior high schools competing against each other in a quiz-style format. The questions cover a wide range of scientific and mathematical topics, including physics, chemistry, biology, mathematics, and general knowledge.
The competition begins with regional qualifiers held in different regions of Ghana. Schools participate in intense inter-school contests, and the winners from each region advance to the national stage.
The top-performing schools from the regional qualifiers gather in Accra, the capital city of Ghana, for the highly anticipated national championship. The national stage consists of knockout rounds, semi-finals, and the ultimate grand finale, where the top two schools compete for the coveted title.
MUST READ: Why Shorthand Writing Must Be Discouraged In The Teaching Profession.
Below is the list of schools that successfully defeated their counterparts in the regional contest in the Oti and Volta Region.
Oti Regional NSMQ 2023 Qualifiers
In Oti Region, four schools qualified for the National Championship. They are: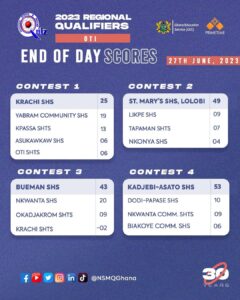 Bueman Senior High School
Kadjebi-Asato Senior High School
Krachi Senior High School
St. Mary's Senior High School, Lolobi.
Volta Regional NSMQ 2023 Qualifiers
The Volta Region has three schools qualifying for the National Championship. They are: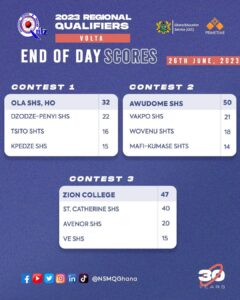 Awudome Senior High School
Ola Girls Senior High School, Ho
Do you think any of these schools will win the coveted prize?