ASA Savings and loans offers scholarship to 10 students in Techiman Municipality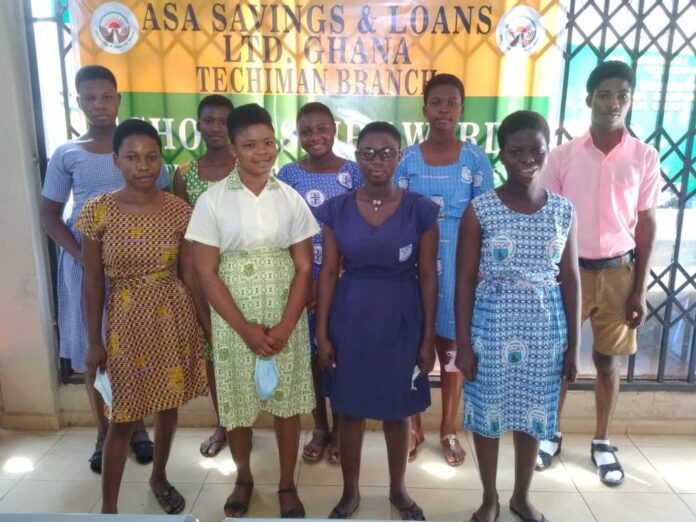 ASA Savings and Loans has offered educational scholarships worth GHC5,900 to 10 Senior High School (SHS) students in the Techiman Municipality of the Bono Region.
The beneficiaries comprise eight female and two male students.
According to Mr Seth Morgan Arhin, the Techiman Area Manager of ASA, the support was to complement government efforts to provide quality education to students and pupils and sustain their interest in school.
"The support is our widow's mite and Corporate Social Responsibility (CSR) aimed at assisting the beneficiaries to acquire learning materials", Mr Arhin said at a short presentation ceremony held at Techiman.
He said education remained paramount in the life of everybody and assured his outfit would continue to support its loyal customers to enable them to cater for the educational needs of their children.
"We are optimistic the gesture would go a long way to ease the pressure on parents in this COVID-19 period. This is not the first time we have awarded scholarships, and we have over the years been consistent in supporting brilliant students across the country", he said.
Mr Arhin explained ASA, as part of its CSR, had designed several activities in 20222 including free health screening, donations to schools and orphanages as well as distribution of COVID-19 relief items to the populace.
Madam Mohammed Ayishetu, one of the mothers of the beneficiaries, and a petty trader expressed appreciation to ASA, saying the support would greatly lessen the financial burden of the parents.
"ASA has really shown to us that they care for our welfare. The support has come at the right time and we thanked them for the gesture", she said.
Source: Newsghana.com