Central Regional Minister hands over 17 vehicles to SHSs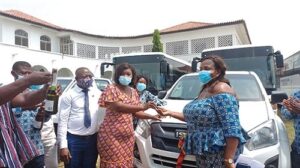 The Central Regional Minister, Mrs Justina Marigold Assan, has handed over 17 vehicles comprising nine pickups and eight buses to some selected Senior High Schools (SHS) in the Central Region.
Beneficiary schools were the Mfantsipim School,the Gomoa Gyaman SHS, the Nyankumasi Ahenkro SHS, the Swedru SHS, the Obiri Yeboah SHS, the Adankwaman SHS, the Jukwa SHS, the Abakrampa SHS, the Awutu Bawjiase SHS,the Assin Manso SHS, the Morkwaa SHS, the St Augustine's College, the Assin State College, the Ogyeedom SHS and the Fettehman SHS.
The minister stated at the brief ceremony at the Central Coordinating Council (RCC) that the vehicles, supplied by the Ministry of Education through GETFund, had arrived on time to address the myriad of logistics issues they were encountering.
That, she noted, would go a long way towards increasing the logistical support needed by authorities in various SHSs to carry out their mandates, as well as changing the face of education in the region.
"The vehicles presented would help address some of these challenges we encounter in schools and also help to transform the face of education in the region," she said.
She urged authorities to ensure students have access to the vehicles to improve upon learning outcomes.
The Regional Director of Education, Mrs Martha Owusu Agyemang, thanked the government for its assistance and requested more logistics to enable schools function effectively.
In a speech read on her behalf, she stated that most schools in the region still required vehicles to maintain efficient day-to-day administration but that they were curtailed by a lack of vehicles.
"We have 76 schools in the region and by far, about 30 have received such support. We wish to appeal to the government to continue with such support for the rest of the schools to enable them properly function."
The immediate past Central Regional Chairman of the Conference of Heads of Assisted Secondary Schools (CHASS), Madam Cecilia Adzo Wofesor, who received the vehicles on behalf of the region's headmasters, encouraged authorities to use the vehicles for their intended objectives.
She added that authorities should ensured that the vehicles were kept in good condition.
"Let us make sure that these cars are well-maintained so that they can continue to serve us in the future. We can't stand by and watch it deteriorate.''
Source: Graphic.com