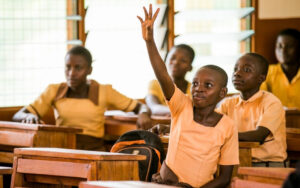 The Ghana Education Service (GES) has introduced semester academic system at the Basic School level which has replaced the trimester system.
With the introduction of the semester system which followed the Common Core Programme (CCP) Curriculum, each facilitator/teacher is expected to prepare weekly, semester and yearly scheme of learning as guide to effectively facilitate teaching and learning.
Below is a sample of the first semester week endings for Basic Schools.
FIRST SEMESTER WEEK ENDINGS FOR BASIC SCHOOLS
WEEK
DATE
EVENTS
Week 1
21st January, 2022
Week 2
28th January, 2022
Week 3
4th February, 2022
Week 4
11th February, 2022
Week 5
18th February, 2022
Week 6
25th February, 2022
Week 7
4th March, 2022
6th March – Independence Day
Week 8
11th March, 2022
Week 9
18th March, 2022
Week 10
25th March, 2022
Mid-Semester Break
Week 11
1st April, 2022
Week 12
8th April, 2022
Week 13
 15th April, 2022
15th April – Good Friday

18th April – Easter Monday

Week 14
22nd April, 2022
Week 15
29th April, 2022
2nd May – Labour Day

3rd May – Eid Al-Fitr

Week 16
6th May, 2022
Week 17
13th May, 2022
Week 18
20th May, 2022
Week 19
27th May, 2022
Revision
Week 20
3rd June, 2022
Examination Week
Week 21
9th June, 2022
Vacation
SOURCE: Coverghana.com.gh