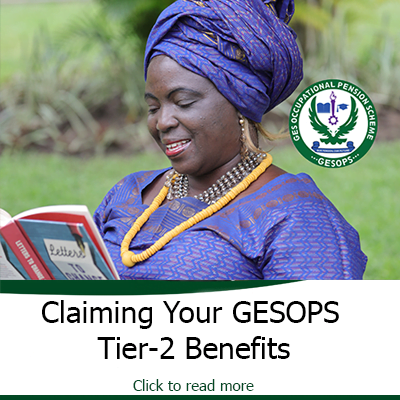 The Ghana Education Service Occupational Pension Scheme (GESOPS) is a Tier-2 pension scheme registered and regulated by the National Pensions Regulatory Authority under the Pensions Act, 2008, (Act 766) as amended.
Tier 2: A mandatory contributory scheme with monthly contributions of 5% on the basic salary of all employees. Tier 2 is a defined contribution scheme and contributions are fully tax-exempt and are privately managed by National Pensions Regulatory Authority (NPRA) licensed service providers.
The Second Tier is a defined contributory Occupational Pension Scheme mandatory for workers with 5% contribution made on behalf of members. The contribution is managed privately by approved Trustees.
The GESOPS Promise
Manage the Scheme Professionally
GESOPS is managed by a Board of Trustees with representation from relevant institutions such as the Ministries of Education, Finance, the Attorney General's Department, the various Unions and an Independent Trustee.
The Board manages the Tier-2 funds for the sole benefit of GESOPS members. They ensure that the proper governance structure are in place and are responsible for creating and implementing an asset allocation designed to protect Scheme member funds from risky assets but ensure growth.
Promptly Pay Benefits
To pay you a lump sum of your benefits on retirement, disability or emigration
To pay your beneficiaries a lump sum benefit on your death
To pay benefits promptly and quickly following a simple application process.
Simplify Porting of Benefits
To allow members to port their contributions out to other pension schemes should they change employers or places of work
To allow workers from other sectors to port their contributions in to GESOPS should they be employed by the GES, or as non-education sector workers desire to join GESOPS
Provide Regular Updates
To be accountable and transparent by furnishing regular scheme updates and statements to members.
Prioritize Customer Service
To establish a customer service culture that is proactive and dedicated to the needs of members.
5 EASY STEPS TO CLAIM YOUR GESOPS TIER-2 PENSION BENEFITS
STEP 1
Obtain Claim Form from GLICO Pensions/Union Office/GES District Office for completion
COMPLETE Claim Form and add all required documents and submit them to the GES "SUPERVISOR" (Headmaster / District or Circuit Supervisor or for TEWU, HR Officer, Accountant/Senior Staff for ENDORSEMENT
GES "SUPERVISOR" receives and endorses form, and returns them to member
STEP 2
Submit endorsed form along with required documents to Union Office for onward submission to GESOPS
Union Office receives claim documents and forwards them to GESOPS Secretariat for further processing
STEP 3
GESOPS Secretariat receives claim documents and reviews them for Completeness and Accuracy
GLICo Pensions receives claim documents; processes claim and submits Benefit Requisition Slip to GESOPS Secretariat for Authorization for payment
STEP 4
GESOPS Secretariat receives Benefit Requisition Slip and issues Authorization Note to Custodian to pay beneficiary
Custodian receives Authorization Note, transfers benefits amount into beneficiary's account and issues Proof of Payment to GESOPS Secretariat
STEP 5
GESOPS Secretariat receives Proof of Payment and informs GLICo Pensions via email
GLICo Pensions receives Email from GESOPS Secretariat and informs Beneficiary via SMS Alert
SUPPORTING DOCUMENTS NEEDED TO CLAIM YOUR NORMAL RETIREMENT / EARLY RETIREMENT BENEFITS:
Pension Advice from SSNIT
Letter from Employer (GES) on your retirement
Valid National ID
Copy of SSNIT Card
Bank and Branch details
Claim Form (Completed)
WHAT YOU NEED TO CLAIM A SURVIVOR'S BENEFIT
Proof of Death (Death Certificate or Medical Certificate of cause of Death)
Letter from Employer (GES) stating that the member is deceased.
A valid national ID card (SSNIT Card, Voter ID, National ID, Driver License Passport) of the survivor's beneficiary(ies).
Affidavit by Head of Family (Confirming identity of Dependents/Beneficiaries)
Beneficiary(ies) bank account details
WHAT YOU NEED TO ACCESS YOUR INVALIDITY BENEFITS
Medical report confirming member's disability
Letter from Ghana Education Service stating that the member has been relieved of his normal duties
Valid National ID Card
Claim Form (Completed)
TAKE YOUR GESOPS TIER-2 PENSION BENEFITS WITH YOU
What you need to access your GESOPS Tier-2 pension benefits if you're emigrating from Ghana.
A Valid National ID Card
SSNIT ID
A statutory declaration stating that you are permanently emigrating from Ghana and the date you intend to emigrate
Claim Form (Completed)
THE 2 PENSION CATEGORIES IN GHANA
By virtue of Act 766 as amended by Act 833 of 2014, workers in Ghana have been divided into two categories for the purposes of pension contribution and payment. GESOPS members fall in category 1 below:
Persons aged below 50 years as at 1st January 2010 who have been migrated fully onto the new 3-Tier pension regime.
Persons aged 50 and above as at 1st January 2010 who remain on the Social Security and National Insurance Trust (SSNIT) scheme governed by PNDC Law 247.
WHAT HAPPENS TO TPFA & REGULAR CONTRIBUTIONS MADE ON BEHALF OF PERSONS IN CATEGORY 2
Persons in Pension Category 2 above, on whose behalf TPFA or Regular Contributions have been received by GESOPS will be entitled to 20% of the contributions received, ie. 4 out of the 5% contributions to the Tier 2 Scheme with interest. The remaining 80% will be returned to SSNIT by GESOPS in line with section 2 of Act 883.
Category 1 members upon retirement shall receive their pension lump sum benefit payment from GESOPS, a one time pension payment. Their monthly pension benefits shall be paid by SSNIT.
A person shall not be entitled to pension entitlements under both categories except as described above.
INTERIM TPFA BENEFITS DO NOT APPLY TO CONTRIBUTIONS FROM 1 SEPTEMBER 2016 ONWARDS
The reconciliation process for TPFA benefits does not apply to contributions from 1st September 2016 onwards (Regular Benefits) as they have been captured and credited to GESOPS members' accounts in full. Accordingly, full Regular Benefits will be paid to all GESOPS benefit claimants.
PAYMENT OF BENEFITS TO RETIRING GESOPS MEMBERS
Upon retirement of a member, an Interim TPFA Benefit, together with the full Regular Benefit will be paid. A GESOPS member's account will remain active until the TPFA reconciliation exercise is completed, the residual TPFA Benefit credited to the member's account and finally paid.
The GESOPS Promise
Manage the Scheme Professionally
Adopt highest professional standards and best practices in managing and securing the assets of the Scheme.
more
Promptly Pay Benefits
To pay benefits promptly following a simple application process.
more
Simplify Porting of Benefits
To make it easy to port benefits into or out of the Scheme.
more
Provide Regular Updates
To be accountable and transparent by furnishing regular scheme updates to members and stakeholders.
more
Prioritize Customer Service
To be proactive and establish a customer service culture that is dedicated to meeting the needs of members.
more
Possible Sources of Retirement Benefits for GESOPS Members
(TPFA, Regular Monthly Contributions, Past Credits)
Planning for your retirement? Talk to us
TPFA
5% contributions to the Tier-2 pension scheme made on a member's behalf from 1 st January 2010 to 31 st August 2016, known as the Temporary Pension Fund Account (TPFA).
more
Regular Monthly Contributions
Regular monthly contributions made on a member's behalf from 1 st September 2016 to date currently being managed by GESOPS.https://www.gespensions.com.gh/