Over one thousand, eight hundred GALOP Schools in Ashanti Region have started receiving their HP Laptops and accompanying accessories.
The Laptops are meant to facilitate data collection in GALOP Schools for prompt action and decision making.
GALOP Schools will be required to access the mobile School Report Card Platform to input relevant data and information on varied parameters in the school relsting to teaching and learning.
Over ten thousand GALOP schools in Ghana are being resourced with funds and logistics to support teaching and learning with the aim of improving academic outcomes and bring low performing schools to the level of others.
The laptops were provided by the GALOP Secretariat under the Ministry of Education for Ghana Education Service for onwards distribution to GALOP Schools.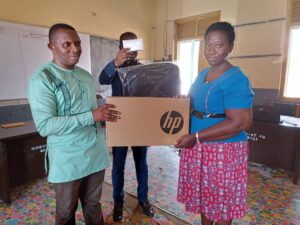 Asokwa Municipal Director of Education hands over laptops to GALOP Schools in his district.