A Taxpayer Identification Number (TIN) uniquely identifies taxpayers or potential taxpayers (that is individuals and corporate bodies) for tax purposes. Section 10 to 12 of the Revenue Administration Act 2016, (Act 915), authorizes the Commissioner-General of the Ghana Revenue Authority (GRA) to maintain a Taxpayer Identification Numbering System of people who are liable to register and pay tax to the state.
For this purpose, from April 1, 2021, the Ghana Card Personal Identification Number (Ghana card PIN) is now being used as a form of Taxpayer Identification for INDIVIDUAL TAXPAYERS ONLY.
This means that the Ghana card PIN has replaced the TIN issued by GRA to Individual Taxpayers from April 1, 2021.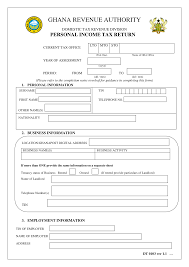 The GRA tin form can be downloaded via the provided link below :
taxpayer_registration_form_organisation