Learn how to apply to KTU 2023/2024 academic year. Koforidua Technical University is a public technical university located in Koforidua, Ghana. It offers a range of diploma, undergraduate, and postgraduate programs in various fields, including engineering, applied sciences, business, and creative arts. 
The university emphasises practical education and skills training, preparing students for employment and entrepreneurship. Koforidua Technical University has modern facilities, including well-equipped laboratories and workshops, to support hands-on learning. The university strives to contribute to national development by producing competent graduates who can meet industry needs and drive innovation. 
To apply to Koforidua Technical University for the 2023/2024 academic year, you can follow the general application process outlined below. 
How To Apply To KTU 2023/2024
Check Eligibility:

Ensure you meet the minimum requirements for admission to Koforidua Technical University. These requirements typically include the completion of secondary education or its equivalent.
Obtain an Application Form:

Obtain an application form from the university's admissions office or download it from their

official website

.
MUST READ: Programmes Offered At UCT
Fill out the Application Form:

Carefully fill out the application form with accurate and complete information. Provide all the necessary details, including your personal information, educational background, and program of interest.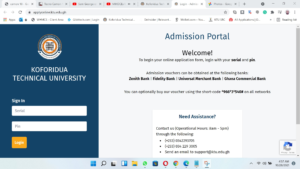 Attach Required Documents:

Gather the necessary supporting documents to accompany your application form. These may include:
Certified copies of your educational certificates, including your high school diploma or equivalent.
Transcripts or academic records from your previous educational institutions.
Results of any standardised tests (e.g., WASSCE, SAT, etc.) if required.
Birth certificate or proof of date of birth.
Passport-size photographs.
Pay Application Fee:

Pay the required application fee, as specified by the university. The fee amount and payment methods will be outlined in the application materials or on the university's website.
Submit Your Application:

Submit your completed application form along with the required documents and proof of payment to the admissions office of Koforidua Technical University. Ensure that you meet the application deadline specified by the university.
Await Admission Decision:

After submitting your application, the university's admissions committee will review your application and supporting documents. The university will inform you of their decision, typically via email or postal mail. If accepted, you will receive further instructions on the enrollment process.
READ ALSO: South Africa: The Country In Which UCT Is Located.
FAQs
Can I apply online for admission to Koforidua Technical University?
Yes, Koforidua Technical University often provides an online application system for prospective students. You can visit the university's official website and look for the "Admissions" or "Prospective Students" section to find the online application portal and follow the instructions provided. If you're unable to find the online application portal, it's best to contact the admissions office directly for guidance.
What documents do I need to submit with my application?
The required documents may vary depending on the program you are applying to at Koforidua Technical University. However, common documents include certified copies of your educational certificates (e.g., high school diploma or equivalent), academic transcripts, results of standardized tests (if applicable), birth certificate or proof of date of birth, and passport-sized photographs. It's advisable to refer to the university's website or contact the admissions office to obtain the specific list of required documents for your desired program.