Programmes Offered at UCT
Let's get to know the various programmes offered at UCT in this article. The University of Cape Town (UCT) is not only renowned for its breathtaking campus and picturesque location but also for its exceptional academic offerings. With a rich and diverse range of programmes, UCT provides a stimulating environment for students to explore their passions, expand their knowledge, and unlock their full potential.
Whether you're interested in the sciences, humanities, or professional disciplines, UCT offers a world-class education that prepares students to make a meaningful impact in their chosen fields. Let's delve into the exciting programmes available at University of Cape Town and discover the limitless possibilities that await.
UCT takes pride in its commitment to academic excellence, evident in its comprehensive range of undergraduate and postgraduate programmes. For those inclined towards science and technology, UCT offers cutting-edge programmes in fields such as Engineering, Computer Science, Mathematics, and the Natural Sciences. The university's state-of-the-art laboratories and research facilities provide students with hands-on experiences and opportunities to contribute to groundbreaking research.
CHECK OUT South Africa: The Country In Which UCT Is Located.
For those passionate about exploring the complexities of human society, UCT's humanities and social sciences programmes offer a profound understanding of our world. From Anthropology, Psychology, and Sociology to History, Politics, and Languages, these disciplines foster critical thinking, cultural awareness, and a deep appreciation for the human experience. UCT's vibrant academic community encourages intellectual debates and nurtures the development of well-rounded individuals.
UCT recognizes the importance of professional development and offers an array of programmes geared towards preparing students for successful careers. The Faculty of Commerce boasts renowned programmes in Accounting, Economics, Finance, and Management Studies, equipping students with the skills and knowledge to thrive in the business world. UCT's Faculty of Law offers a comprehensive legal education, fostering ethical reasoning, and preparing students for the dynamic legal landscape.

In addition to these traditional disciplines, UCT embraces interdisciplinary studies, recognizing the interconnectedness of various fields of knowledge. The university's innovative programmes, such as Environmental and Geographical Science, African Studies, Global Health, and Data Science, empower students to tackle complex real-world challenges through interdisciplinary approaches. UCT's emphasis on interdisciplinary collaboration encourages students to think outside the box and develop holistic solutions.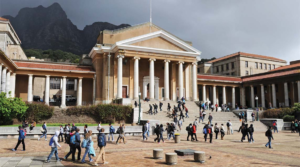 UCT's commitment to inclusivity and social impact is reflected in its programmes addressing pressing societal issues. The university's Faculty of Health Sciences offers comprehensive medical and health-related programmes, training the next generation of healthcare professionals. UCT's School of Education equips aspiring educators with the tools and knowledge to make a difference in the lives of learners. Furthermore, UCT's Centre for African Studies provides a platform for research and dialogue on Africa's social, political, and economic challenges.
Programmes Offered at UCT
BSc in Mathematics or Applied Mathematics
BA in Politics, Philosophy, and Economics
BA in Languages and Literature Studies
BSc in Management Studies
MBChB (Bachelor of Medicine and Bachelor of Surgery)
BSc in Health Sciences (specific degrees for each discipline)
BEd (Bachelor of Education)
BSc in Environmental and Geographical Science
BA in Film and Media Studies
BSc in Architecture and Planning
BBusSc in Actuarial Science
BBusSc in Information Systems
BBusSc in Organisational Psychology
BBusSc in Statistical Sciences
BBusSc in Retail Management
BBusSc in Management Studies (with various specialisations)
BBusSc in Supply Chain Management
BBusSc in Entrepreneurship
BBusSc in Property Studies
READ ALSO: Cape Town: The City Where UCT Is Situated.
The University of Cape Town's diverse range of programmes creates a vibrant academic ecosystem that nurtures intellectual curiosity, fosters innovation, and promotes social impact. Whether you aspire to pursue a career in science, humanities, business, or make a difference in society, UCT offers a world-class education that prepares students to excel in their chosen fields. By embracing interdisciplinary approaches, encouraging critical thinking, and fostering a sense of social responsibility, UCT empowers students to become leaders and change-makers in a rapidly evolving world.