Cape Town: The city Where UCT Is Situated
This article aims to enlighten you on Cape Town: the city where UCT is situated. Nestled at the foot of the majestic Table Mountain, Cape Town, South Africa's legislative capital, is a city that captures the hearts of all who visit. Known for its breathtaking landscapes, diverse cultures, and rich history, Cape Town is a vibrant metropolis that seamlessly blends natural beauty with urban charm.
This cosmopolitan hub serves as the backdrop for one of Africa's most prestigious universities, the University of Cape Town (UCT). Let's embark on a journey to discover the wonders of Cape Town, the city where UCT thrives.
Cape Town is a place of awe-inspiring landscapes, where the sprawling cityscape meets the vast expanse of the Atlantic Ocean. Its crown jewel, Table Mountain, stands tall and proud, offering panoramic views that take your breath away. The Table Mountain National Park, a UNESCO World Heritage Site, encompasses not only this iconic landmark but also a rich variety of flora and fauna, making it a nature lover's paradise. From the sun-kissed beaches of Clifton and Camps Bay to the vibrant streets of the City Bowl, Cape Town's diverse neighborhoods offer something for everyone.
One of the key institutions that has shaped Cape Town's identity is the University of Cape Town (UCT). Established in 1829, UCT is South Africa's oldest university and consistently ranks among the top universities on the African continent. Situated in the picturesque suburb of Rondebosch, UCT's campus boasts stunning views of Devil's Peak and the surrounding mountains. The university is renowned for its academic excellence, fostering innovation, and promoting social impact through its wide range of disciplines and research endeavours.
MUST READ: All You Need To Know About The University of Cape Town.
Beyond its academic prowess, UCT contributes significantly to the cultural fabric of Cape Town. The university's diverse student body, comprising individuals from all walks of life, creates a vibrant and inclusive atmosphere. From art exhibitions and theatrical performances to thought-provoking lectures and debates, UCT provides a platform for intellectual and artistic expression that enriches both its campus community and the wider city.
Cape Town: The city Where UCT Is Situated
Cape Town's charm extends beyond its natural beauty and academic institutions. The city embraces its cultural diversity, reflected in its cuisine, music, and traditions. Exploring the bustling markets of Greenmarket Square or indulging in the flavors of Cape Malay cuisine in the colorful Bo-Kaap neighborhood allows visitors to immerse themselves in the rich tapestry of Cape Town's heritage. Additionally, the city's historical landmarks, such as the Castle of Good Hope and Robben Island, remind us of the resilience and triumphs of South Africa's past.
Cape Town, the city that houses UCT, captivates both locals and visitors alike with its breathtaking landscapes, cultural vibrancy, and intellectual pursuits. From the towering presence of Table Mountain to the intellectual curiosity nurtured within UCT's halls, Cape Town embodies a unique blend of natural wonders and academic achievements. Whether you're exploring the renowned university campus, taking in the views from Signal Hill, or immersing yourself in the city's diverse cultural offerings, Cape Town offers an experience that lingers long after you've left its shores.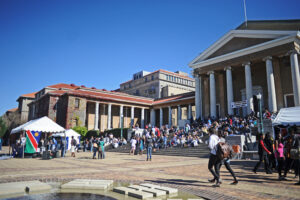 FAQs
What is the location of Cape Town?
Cape Town is located on the southwestern coast of South Africa. It is situated in the Western Cape province.
What is UCT, and where is it located within Cape Town?
UCT stands for the University of Cape Town. It is one of South Africa's leading universities and is situated in the suburb of Rondebosch, which is approximately 6 kilometres from the city centre.
What makes Cape Town a popular tourist destination?
Cape Town is renowned for its stunning natural beauty, including iconic landmarks such as Table Mountain, beautiful beaches, and the Cape Peninsula. The city offers a diverse range of activities, from exploring historical sites like Robben Island to enjoying world-class cuisine, vibrant markets, and cultural festivals. The combination of scenic landscapes, rich history, and vibrant cultural experiences makes Cape Town an attractive destination for tourists.
What is the best time to visit Cape Town?
Cape Town experiences a Mediterranean climate, with warm summers and mild winters. The peak tourist season generally falls between November and March when the weather is warm and sunny. However, Cape Town can be visited throughout the year, as even during the winter months, the city offers pleasant temperatures and fewer crowds.
Are there safety concerns for visitors in Cape Town?
Like any major city, Cape Town does have some safety considerations. It is advisable to take precautions and be aware of your surroundings, especially in crowded areas and at night. It is recommended to follow local advice and guidelines, avoid displaying valuable belongings, and use reliable transportation options. By exercising common sense and taking necessary precautions, visitors can enjoy a safe and memorable stay in Cape Town.
GET TO KNOW How To Apply To University of Cape Town In 2023.
What are some must-visit attractions in Cape Town apart from UCT?
In addition to UCT, Cape Town offers numerous attractions. Some popular ones include visiting Table Mountain and taking a cable car ride to enjoy the breathtaking views, exploring the V&A Waterfront, touring the historic Robben Island, visiting Kirstenbosch National Botanical Garden, taking a drive along Chapman's Peak, and exploring the colorful Bo-Kaap neighborhood.
How can I get around Cape Town?
Cape Town has a well-developed transportation system. Visitors can make use of metered taxis, ride-hailing services, public buses, or the MyCiti bus service, which operates on various routes throughout the city. Renting a car is also a popular option for exploring the city and its surroundings, although it is advisable to familiarize yourself with local traffic rules and regulations.
What are some outdoor activities available in Cape Town?
Cape Town is a paradise for outdoor enthusiasts. Activities such as hiking on Table Mountain and the Cape Peninsula, surfing and kiteboarding at popular beaches like Muizenberg, or even shark cage diving for thrill-seekers are available. Wine enthusiasts can explore the famous Cape Winelands, just a short drive from the city, for wine tastings and vineyard tours.
Is Cape Town a family-friendly destination?
Yes, Cape Town offers a range of family-friendly activities and attractions. These include visiting the Two Oceans Aquarium, exploring the World of Birds Wildlife Sanctuary and Monkey Park, taking a scenic train ride on the Cape Town Blue Miniature Railway, or enjoying a picnic at Kirstenbosch Botanical Gardens.