How To Book A Room At UPSA Hostel
All You Need To Know About How You Can Book A Room At UPSA Hostel
How To Book A Room At UPSA Hostel
University of Professional Studies, Accra is Ghana's foremost professional tertiary institution that has provided both academic and professional higher education for the past fifty years.
It is the oldest Ghanaian human resource development institution in professional Accountancy and Management.

UPSA students come from different backgrounds hence the hostel provides unique opportunities for learning about each other's experiences – balance of individual freedom with a sensitivity to and respect for the rights of others.
Below is a step by step guide on how you can book a room at UPSA Hostel.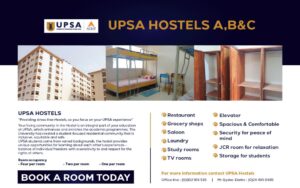 How To Book A Room At UPSA Hostel
New User Registration.
The UPSA Hostel Application can be accessed Here.
Click on Fresher Registration, if you do not have account in the Hostel application.
Enter your username (which is your student ID) and an email address.
Note: Password credentials and other correspondence will be sent to this email so ensure you can still access the email.
Click on the link sent to the email you provided.
Enter a password of your choice. You will be redirected to the login 

screen when the password is successful.
CHECK OUT YOUR 2022/2023 UPSA ADMISSION STATUS HERE.
How To Book A Room At UPSA Hostel
Current User Login
The UPSA Hostel Application can be accessed Here.
Enter your username (i.e. your student ID) and password which you created during the initial registration.
Clicking the Sign In button, will send you to your student Dashboard.
Continue by following the steps to choose your bed.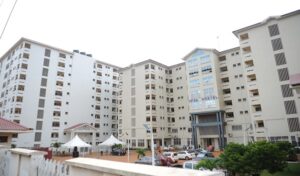 UPSA HOSTEL
FAQs
How many halls does University of Ghana have?
There are 14 halls of residence and 2 hostels (available to all students).
How many halls has Knust?
Well in this article, we will take a look at the history of the 6 traditional halls in KNUST and probably why the hall residents behave the way they do. The halls serve as the official KNUST hostels for students.
Is UPSA fully government?
From a humble beginning as a Private Tutorial College in 1965, the Institution was taken over by government in 1978 by the Institute of Professional Studies Decree, 1979 (SMCD 200).
Does UPSA pay fees yearly?
Fees charged per academic year are supposed to be paid by two installments i.e. 50% at the beginning of the first semester and the remaining 50% at the start of the second semester. Full payment (100%) is, however, accepted if the student can afford.
Can I change my course after admission to UPSA?
The programme including the session offered on admission cannot be changed or deferred.
Which school has the biggest campus in Ghana?
Founded in 1948 as 'University College of the Gold Coast' – an affiliated college of the University of London – the University of Ghana is now the oldest and largest of Ghana's 10 public universities.
How many halls are at UPSA?
Students are affiliated to the University's four residence halls namely: Opoku Ampomah, Nelson Mandela, Liberty and Yaa Asantewaa.
This article was written to enlighten you about the UPSA Hostel.
If you got value, share this article with your friends on social media platforms to show your support.
Do not hesitate to use the comment space below if you have any questions, concerns or thoughts.