HOW TO CHECK YOUR 2022/2023 UCC ADMISSION STATUS
All You Need To Know About Your UCC Admission Status
HOW TO CHECK YOUR 2022/2023 UCC ADMISSION STATUS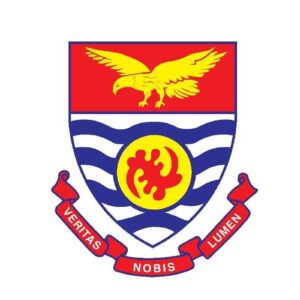 University of Cape Coast is one of Ghana's outstanding tertiary institutions. It is well known for its Distance Education Programmes.
The administration of University of Cape Coast has published the list of students who have been offered temporal admission in the institution for the next academic year.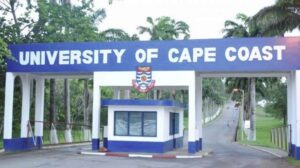 Below is a step by step guide on how to check your 2022/2023 UCC admission status on the University of Cape Coast Portal.
How To Check Your 2022/2023 UCC Admission Status
Go to the University of Cape Coast status checker portal via
https://admissionlist.ucc.edu.gh/online_letters/admList
Enter the Voucher Serial Number and

 

Pin that you used for the application process.
Click on the "LOGIN" button to gain access to your admission status.
Go ahead to print your University of Cape Coast Admission Letter.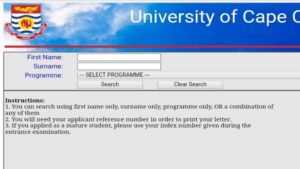 Felicitation to you if you have been admitted to the prestigious Ashesi University.
FAQs
Is UCC still available for 2022/ 2023 Admissions?
Applications are invited from suitably qualified persons for admission into undergraduate programmes of the University of Cape Coast for the 2022/2023 Academic Year. Persons who will be writing WASSCE this year (AWAITING 2022 WASSCE RESULTS) can also apply.
Is UCC admission List 2023 out?
The management of the University of Cape Coast (UCC) has released the Admission List of successfully admitted students who has been offered provisional admission into the various programmes in UCC for the next academic session.
What is the deadline for UCC Forms 2022/2023?
The deadlines for the sale of application e-vouchers and the submission of completed application forms are Friday, 27th May, 2022 and Friday, 3rd June, 2022 respectively.
ALSO READ Ashesi University Admission Status Checker.
This article was written to guide you on how you can check your University of Cape Coast Admission Status.
If you got value, share this article with your friends on social media platforms to show your support.
Do not hesitate to use the comment space below if you have any questions, concerns or thoughts.