I WAS SCARED OF CHALLENGES
In a recent Personal Branding Challenge organized by the Digital Entrepreneur Network community on Facebook, the winner; Esther Aku-Sika confessed that "I was scared of challenges" on her Facebook personal page. It is as follows;
"No one wants to be confronted with Challenges in anything. For some people, challenges are nightmares.
For some, it is a setback. To some specific groups of people; challenges are blessings in disguise.
Which group are you in?
The interpretation we give to any life challenge determines the outcome of our lives.
Certain challenges have a way of revealing to us certain hidden things about us.
Do you know that many great people became great due to certain challenges they went through?
For some, that challenge was financial issues or perhaps relationship issues, for others, it was their health and for some people, life hit them so hard that they struggled to define and understand what exactly happened.
Despite all these challenges, they surpassed victoriously.
I Was Scared Of Challenges
They gave their life meaning and stood tall despite how hard life tried to pull them down. They sprouted because they were seeds.
It is in challenges that we know our true self, environment and company.
In challenges, we discover and develop our innate abilities.
Oftentimes, 𝐨𝐮𝐫 𝐠𝐫𝐞𝐚𝐭𝐞𝐬𝐭 𝐦𝐨𝐦𝐞𝐧𝐭𝐬 𝐜𝐨𝐦𝐞 𝐟𝐫𝐨𝐦 𝐨𝐮𝐫 𝐠𝐫𝐞𝐚𝐭𝐞𝐬𝐭 𝐜𝐡𝐚𝐥𝐥𝐞𝐧𝐠𝐞𝐬.
Just as life challenges, all the challenges being held in this space are meant to push us out of our comfort zones so we can be better people.
These challenges aim to help us broaden our knowledge in our respective fields, give us insights on how best we can develop our skills effectively as well as help us build great networks we can collaborate with in future.
The Digital Entrepreneur Network Personal Branding Challenge organized by ma'am Sussan Opata was no exception.
I never planned to participate in the Digital Entrepreneur Network Personal Branding Challenge because I was scared I will not stay consistent.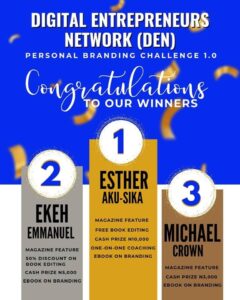 After praying and speaking to a friend, I decided to participate in the challenge.
I read Sir Johnkennedy Akpa JohnKennedy's book; SERIAL AWARD WINNING WRITER, and set my goals for the challenge. They were;
✅ 𝐓𝐨 𝐬𝐡𝐚𝐫𝐩𝐞𝐧 𝐦𝐲 𝐰𝐫𝐢𝐭𝐢𝐧𝐠 𝐩𝐫𝐨𝐰𝐞𝐬𝐬 𝐚𝐧𝐝 𝐡𝐚𝐫𝐧𝐞𝐬𝐬 𝐦𝐲 𝐜𝐫𝐞𝐚𝐭𝐢𝐯𝐢𝐭𝐲.
✅ 𝐓𝐨 𝐧𝐮𝐫𝐭𝐮𝐫𝐞 𝐚𝐧𝐝 𝐛𝐮𝐢𝐥𝐝 𝐦𝐲 𝐰𝐫𝐢𝐭𝐢𝐧𝐠 𝐛𝐫𝐚𝐧𝐝.
✅ 𝐓𝐨 𝐥𝐞𝐚𝐫𝐧 𝐭𝐡𝐞 𝐚𝐫𝐭 𝐨𝐟 𝐜𝐨𝐧𝐬𝐢𝐬𝐭𝐞𝐧𝐜𝐲.
✅ 𝐓𝐨 𝐠𝐞𝐭 𝐟𝐫𝐞𝐞 𝐞𝐝𝐢𝐭𝐢𝐧𝐠 𝐚𝐧𝐝 𝐩𝐫𝐨𝐨𝐟𝐫𝐞𝐚𝐝𝐢𝐧𝐠 𝐟𝐨𝐫 𝐦𝐲 𝐮𝐩–𝐚𝐧𝐝–𝐜𝐨𝐦𝐢𝐧𝐠 𝐛𝐨𝐨𝐤.
Driven by these goals, I went all out and emerged the overall winner in the end.
I Was Scared Of Challenges

Below are the lessons I learnt from this challenge:
✅
𝐀𝐥𝐰𝐚𝐲𝐬
𝐒𝐞𝐞𝐤
𝐆𝐨𝐝
'
𝐬
𝐟𝐚𝐜𝐞
𝐢𝐧
𝐞𝐯𝐞𝐫𝐲𝐭𝐡𝐢𝐧𝐠
𝐲𝐨𝐮
𝐝𝐨
:
Before participating in this challenge, I had already participated in seven competitions since I started writing in this space.
I do not remember seeking God's face in the previous competitions but for this competition, I prayed to God, asked a friend to join me in prayers and told my pastor to pray for me.
I believe by this action, I gave God the complete authority to oversee this competition. I acknowledged the fact that I could not win by my might alone hence the reason I invited Him.
Dear friend, learn to seek God's face in everything you do. It can change a lot of things.
✅
𝐈𝐧
𝐚𝐥𝐥
𝐭𝐡𝐲
𝐠𝐞𝐭𝐭𝐢𝐧𝐠
,
𝐠𝐞𝐭
𝐚𝐥𝐥
𝐭𝐡𝐞
𝐤𝐧𝐨𝐰𝐥𝐞𝐝𝐠𝐞
𝐢𝐧
𝐚𝐧𝐲
𝐟𝐢𝐞𝐥𝐝
𝐲𝐨𝐮
𝐰𝐚𝐧𝐭
𝐭𝐨
𝐠𝐞𝐭
𝐢𝐧𝐭𝐨
:
The knowledge I had from Sir John Kennedy's book; Serial Award-Winning Writer was my secret to winning the challenge.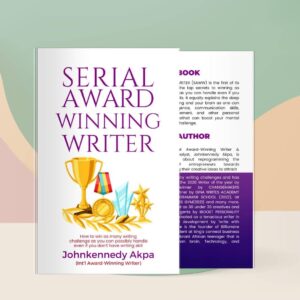 ALSO READ Why Content Writers Are Scared of Me – JohnKennedy Akpa Explains.
✅
𝐃𝐨
𝐈𝐭
𝐀𝐟𝐫𝐚𝐢𝐝
:
For those who have followed me for a long time, you will probably attest to the fact that I have never done a recorded video of myself before.
Well, that might be because I had a phobia for videos. In this challenge, I had to do close to five videos talking about my brand, and I was afraid.
I wanted to withdraw my participation when I saw that video was required but I felt the fear and did it anyway. I did it afraid.
I was shocked to discover how bold and accurate I was.
I realised I had held on to this belief as a result of the inferiority complex phase I went through as a teen so when growth happened, I did not know my fear of videos had dissipated until I gave recorded videos a chance.
I intend to create more videos now.
I Was Scared Of Challenges
✅
𝐀𝐥𝐰𝐚𝐲𝐬
𝐇𝐚𝐯𝐞
𝐀
𝐏𝐨𝐬𝐢𝐭𝐢𝐯𝐞
𝐌𝐢𝐧𝐝𝐬𝐞𝐭
:
My chitchat with my garric sis, Martha Egbe  opened my eyes to the fact that I have been having a negative mindset about online competitions hence one of the reasons I am unable to win any competitions I go into.
Having a positive mindset about certain things has a way of making us succeed in those things.
Why have the mindset of failure when the aim is to win?
Indeed, the role of the mind can never be underestimated. Being optimistic is key to unveiling the best version of ourselves.
✅
𝐃𝐨𝐧
'
𝐭
𝐪𝐮𝐢𝐭
𝐚𝐦𝐢𝐝
𝐨𝐛𝐬𝐭𝐚𝐜𝐥𝐞𝐬
:
During the competition, I felt like giving up. My engagement and creativity dropped. I did not know what to even write or say in the video but effective research came to my rescue.
In life, obstacles will always come. Obstacles will hit you so hard but don't quit. Follow the process and you will be happy you did not quit."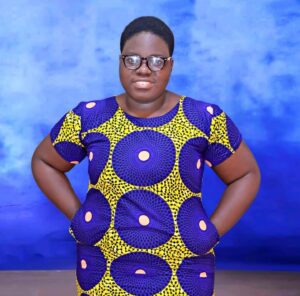 ALSO READ; Harry's Story of How He Became Who He Is Despite Being Raised In An Orphanage.
This article was written to let you know why you must not give up irrespective of the number of times you have failed.
If you got value, share this article with your friends on social media platforms to show your support.
Do not hesitate to use the comment space below if you have any questions, concerns or thoughts.