A medical school is a tertiary educational institution, or part of such an institution, that teaches medicine, and awards a professional degree to physicians. Such medical degrees include the Bachelor of Medicine, Bachelor of Surgery, Master of Medicine, Doctor of Medicine, or Doctor of Osteopathic Medicine.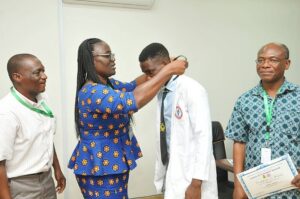 ABOUT KNUST SCHOOL OF MEDICINE
The School of Medical Sciences (SMS) was founded in 1975. Its original mandate was to train Physicians, Medical Scientists, and Medical Laboratory Technologists. A 3-year BSc (Human Biology) program was to be the basic program to be followed by the three categories of programs. At present, the School concentrates on training Physicians at the undergraduate level and Medical Scientists at the postgraduate level. The Medical Laboratory Technology program is run separately in the Faculty of Allied Health Sciences. The School is involved in the training of postgraduate doctors for the professional membership and fellowship certification of the Ghana College of Physicians and Surgeons and the West African Postgraduate Medical College.
Vision & Mission
The vision of SMS is to be internationally recognized as a premier center of excellence in teaching, research, and professional and academic training in medical sciences in Africa producing high-caliber doctors and medical scientists to support the health sector in Ghana and the rest of Africa. The mission of SMS is to provide the environment for community-based professional and academic medical training, research, and support for health care delivery in Ghana and Africa. SMS  also provides community services, consultancies, creates collaborative links, and attracts scholars and from the international community.
CONTACT LINE
School of Medical Sciences
College of Health Sciences
KNUST
Kumasi-Ghana
Tel: +233 (0) 3220-63621
KNUST SCHOOL OF MEDICINE DEPARTMENTS
Radiology
Physiology
Anaesthesiology
Dentistry 
Orthopedics
Oral and Maxillofacial Surgery
Basic & Diagnosis Oral Health
Adult Oral Health
Child Oral Health & Orthodontics